Bring On
The Moisture
Wouldn't it be great if choosing a moisturizer was easy? Unfortunately, in the billion-dollar beauty business, companies use every ingredient and tactic to make a sale, leaving it up to the consumer to decipher which ingredients are worth the money. Next time you find yourself holding moisturizers touting snake venom and nightingale excrement, remember that those are just the "extras" -- look for the following ingredients when purchasing your moisturizer.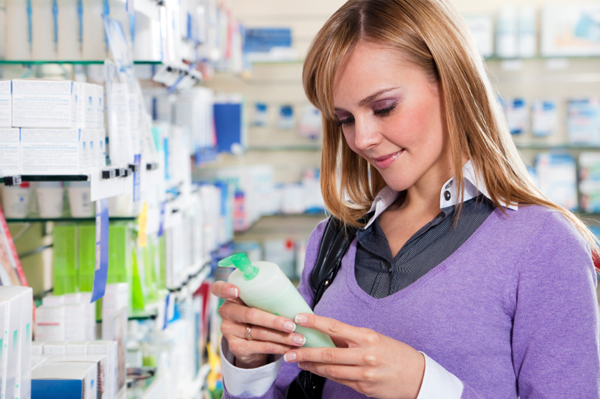 Moisturizing basics
Quality moisturizers include three basic ingredients that are designed to work together to provide the best moisturizing coverage. These ingredients include occlusives, humectants and emollients. Occlusives help prevent your skin from losing moisture to the environment by slowing evaporation and creating a moisture "seal." Humectants pull water from the deep layers of skin and from the environment to increase the water content of your outermost skin layer. This helps "plump" your visible skin, giving it a smoother appearance. Emollients act as lubricants, filling in the spaces between skin cells to help even out skin tone.
Not all occlusives, humectants and emollients are created equal. When purchasing your moisturizer, make sure you look for specific types of each ingredient.

Humectants
Look for humectant ingredients like ammonium lactate, glycerin and sodium PCA. These ingredients, particularly glycerin, help the outermost skin layer to degrade and slough off evenly, giving you smoother-looking skin.
Occlusives
Occlusives often feel greasy and some of them can irritate the skin. Many companies use mineral oil in an effort to prevent the greasy feeling, but it's not the most effective occlusive. When purchasing your product, look for options like beeswax, caprylic/capric triglyceride or paraffin for the best results.
Emollients
The type of emollient used in a moisturizer will affect how smooth your skin feels after application. While some emollients are more popular than others, you may have to try several different moisturizers to get the "feel" you're looking for. Common emollients include cyclomethicone, dimethicone copolyol, glyceryl stearates, isopropyl palmitate, lanolin and propylene glycol linoleate.
Other ingredients
Beauty companies often add fragrances and other ingredients to their moisturizers in order to increase the salability of the product. Let's face it -- a product that smells great or that touts a luxury ingredient like caviar or crushed pearls looks a whole lot more appealing than plain old, non-smelling white lotion. While not all added ingredients are created equal, a few of them make the grade:
SPF: It never hurts to purchase a moisturizer designed to help protect your beautiful skin from sunburn. Opt for lotions with at least SPF 15, preferably in a broad-spectrum formula that protects you from UVA and UVB rays.
Cocoa butter: The vegetable fat from the cocoa bean has been added to body creams and moisturizers for years and is effectively used to treat extremely dry skin and to help prevent and treat stretch marks.
Snake venom: If you're looking for an alternative to Botox, you may want to pick up a moisturizer with synthetic Temple Viper venom. The venom works to paralyze facial nerves, smoothing the look of wrinkles. The moisturizer itself isn't that scary, but the price could be -- expect to shell out more than $100.00 per bottle for this type of cream.
Crushed pearl: Crushed pearl can give your skin a nice incandescent glow, but its benefits don't end there. It appears that this moisturizing additive may be able to improve skin tone and reduce discoloration.
More skin care tips
Pick the perfect moisturizer
Moisturizing acne-prone skin
12 Must-have skin care products
More From SheKnows Explorer