Keep Your Skin
Looking Young
When you consume the right nutrients in your diet, your skin will take on a healthy glow. Treat your skin both inside and out with natural skin care nutrients.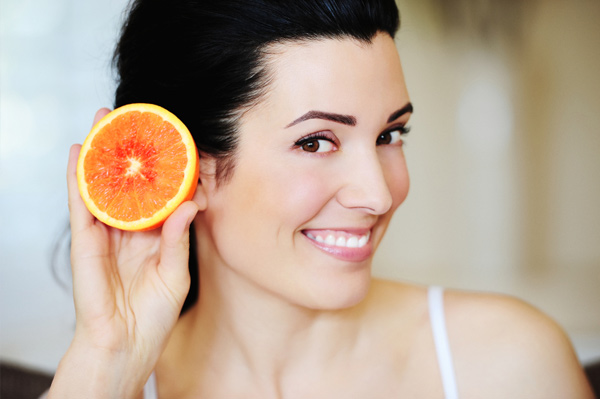 Vitamin C and E
Both vitamin C and E are antioxidants that help prevent free radicals from damaging your skin. When consumed together, these vitamins can even help protect your skin from sun damage. The antioxidant and skin-protecting agents found in these vitamins will help ward off wrinkles, keeping your skin looking younger, longer.
Vitamin C Sources: Citrus fruits, leafy green vegetables and other brightly colored fruits and veggies
Vitamin E Sources: Oils, nuts, seeds, olives, spinach and asparagus
Vitamin A
Though consuming vitamin A is important, as long as you're eating plenty of fruits and veggies, you're probably consuming enough for dietary purposes. Topical vitamin A is the form of the nutrient that can make a big difference to your complexion. These face creams come in an over-the counter and prescription form. The prescription version, commonly known as Retin-A, works to prevent and treat acne, while the over-the-counter variety is used as an anti-aging cream.
Vitamin B Complex
The vitamin B complex includes a number of different vitamins like thiamin, niacin and biotin. While all of the B vitamins contribute significantly to skin health, biotin plays a particularly vital role. In fact, biotin forms the basis of your skin, hair and nails, and small deficits can result in itchy, scaly skin. Other benefits of the vitamin B complex include thiamin's role in skin cell function and niacin's anti-inflammatory properties. While dietary Vitamin B is important, topical vitamin B can also be applied to improve skin's appearance and tone.
Vitamin B Complex Sources: Bananas, eggs, oatmeal, brown rice
Selenium
Despite selenium's relatively unknown status, this important mineral packs a big punch when it comes to skin protection. In fact, selenium may help prevent your skin from experiencing sunburn or developing cancer. Now that's a big deal!
Sources of Selenium: Walnuts, whole grains, garlic and eggs
Copper
Copper works with vitamin C and zinc to strengthen your skin's elasticity and structure. Most people have no problem consuming enough of this mineral in their regular diet, and supplementing could be dangerous, so if you want to harness the benefits of copper, turn to a topical treatment. Topical copper treatments may help firm your skin.
Zinc
If you're not consuming enough zinc in your diet, you may find yourself prone to acne. Zinc can help clear acne by toning down oil production.
Sources of Zinc: Oysters, lean meats, poultry
Essential Fatty Acids
Dry, inflamed skin that's prone to black heads may just need a good dose of essential fatty acids. These EFAs help your skin produce a natural, non-irritating form of oil. You can't consume just one of the essential fatty acids, though. You need to intake a good balance of omega-6s and omega-3s to give your skin a smooth, soft glow.
Sources of omega-6: Baked goods, cooking oils, poultry, grains
Sources of omega-3s: Salmon, sardines, flaxseed, safflower oils
More on nutrition and skin
Good nutrition for healthy skin
A researcher in Nutrition Science discusses quality supplements through top-notch scientific research.
More skin care tips
What to eat for healthy skin and hair
Foods that brighten your skin
Foods that reverse aging
More From SheKnows Explorer