We Get The Beauty Scoop Backstage
Montreal Fashion Week is in full swing and SheKnows got the scoop on the hair and makeup for the Mélissa Nepton show. Read on to discover some of the colour and style trends you'll see emerging this coming fall.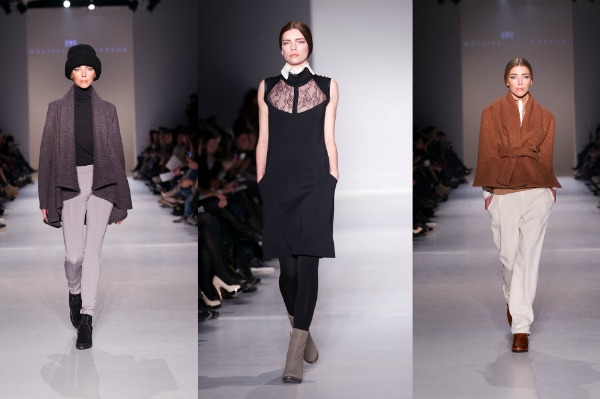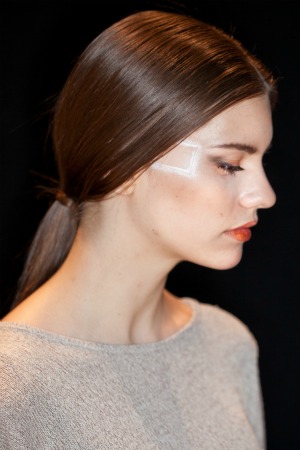 Montreal Fashion Week takes over the Marché Bonsecours this week and stylistas dressed to impress have descended upon the venue to take in the fall collections, including the one from Mélissa Nepton. The look here is quite fresh and simple — i.e., it's one you can actually wear in real life. How to get the look? We found out from the hair and makeup teams backstage.
The hair
Designer Mélissa Nepton has a Native background and this is reflected in her fall collection, also inspiring the hair and makeup. For the hair, Denis Binet, Pantene Consulting Stylist and director of all the hair looks at Montreal Fashion Week, put together one of the simplest styles we've seen thus far. Hair was parted in the centre and kept smooth — a departure from most every other look this fashion week — and involved much texture in the hair with the help of plenty of product. Here, the hair was pulled back into a low ponytail, covering the ears, and all Binet used was a quick spritz of Pantene Classic hairspray.
The makeup
As for the makeup, it was inspired by nature and going back to one's origins, says Trinidad Riva, key makeup artist who created the look. Think "girl from up-north Quebec," he says. Brows were the main focus, so they were kept very present ("so they have lots of power," said Trinidad) by filling them in with Cover Girl eye pencil in Midnight Brown. They were further emphasized with the use of tape to create a lift in the area, the border of the tape accentuated with white irridescent eyeshadow. Finally, a bit of black eyeshadow was added to the outside corners to complete the look.
Lips were made to look as though the models had just come back to life. Rivas achieved this by using a rich orange-gold colour (Cover Girl Blast Flipstick in colour 855), topping it with the bronze from Cover Girl eyeshadow quad 119. Rivas emphasized applying the lip colour to the bottom lip. "This was to create a more sensual pout for the look," he says.
Finally, for the face, to create a natural-looking shadow on the cheekbones, he used Cover Girl Pressed Powder in 255.
Runway image credit: Jimmy Hamelin
Backstage image credit: Louis Philippe Maurice
More beauty tips
Must-try winter beauty trends
4 Ways to have great hair this winter
The ultimate dry skin survival guide
More From SheKnows Explorer