Get Insider Tips On How To Get A Catwalk Look
We ventured into the haze of hairspray and sea of tall, leggy models and got the goods on how makeup and hair teams pull off some beautiful runway looks. Here's the scoop.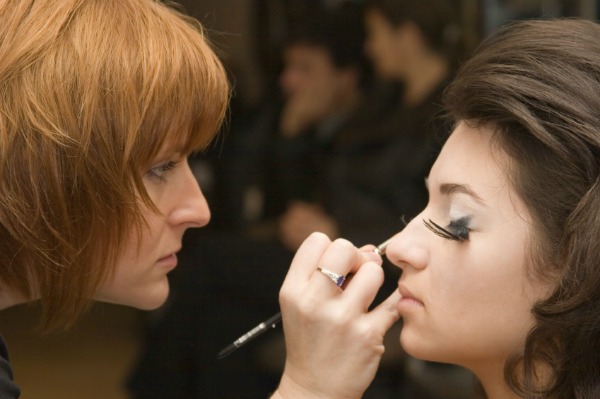 If you've ever coveted a makeup trend or hairstyle from the runway at fashion week but have never been able to pull it off as well at home, you're in luck. We've hung out backstage and witnessed many tricks of the trade from the hair and makeup teams. Here are a few out-of-the-box ideas that'll help you get those dramatic catwalk results.
Keep your hair unwashed
If you ever watch a hairstylist start working on a model's hair backstage, you'll notice that one of the first things they do is apply a ton of product and work it through the hair, over and over. The reason for this? Hair that's freshly washed (which is how the models arrive backstage) is much too slippery and clean to do much styling to. Your hair needs some hold and tackiness so it can be styled just how the designer wants it.
Do out-there artistic manicures on faux nails
If you can barely apply regular polish, there's no way you can do elaborate nail art or a 3-D manicure on your own hands. For runway shows, many of the particularly fashion-forward nail looks are completed on fake nails first, and then the fake nails are applied to their fingers. While this is very much because faux nails can be applied quickly (and removed immediately so the models can move on to their next runway show), it is easier to work on a stable object than on a real person's nails.
Get an ombre lip using eyeshadow
For an edgy-looking ombre lip, makeup artists apply eyeshadow to the centre of the pout. If you're looking for something more wearable, using a product such as Cover Girl Blast Flipstick (which features two shades) can achieve similar results.
"Waste" an entire mascara for the heaviest lashes
Overemphasized, thick and even gloppy-looking lashes can be hard to acheive when mascaras are designed to keep lashes clump-free. Breaking a tube open (note: you'll have to ditch it after this use) so you can dip your wand more readily into the mascara will help you get more product onto the brush itself without it being partially cleaned off when you pull the wand out of the proper tube.
More beauty tips
Get that chic, Parisian look
Hair and makeup with an Old-Hollywood twist
Montreal Fashion Week: The look at Melissa Nepton
More From SheKnows Explorer