Battle Breakouts
On Your Back
With hot weather on the way, there's no hiding your back acne for long. Here's how to clear up breakouts on this part of your body.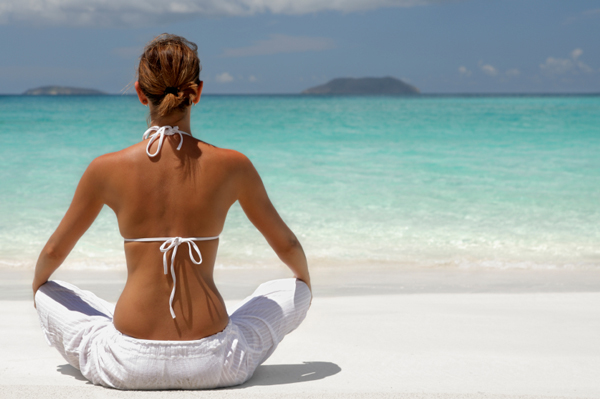 In the fall and winter, when we're all bundled up in sweaters and layers, it's easy enough to hide your back acne. But with warm weather here, we're shedding all the clothes that covered us up and donning camisoles and bathing suits, making clearing up your back breakouts a priority.
The back commonly breaks out (back acne is even sometimes referred to colloquially as bacne) because the skin in this area contains many sebacious (oil) glands, and like with facial acne, overactive oil glands, pores clogged with dead skin cells and acne bacteria are the culprits behind back acne.
Here are some ways to take action to treat and alleviate your back acne problems.
Avoid tight clothing and accessories
You may aggravate your back acne — especially if you have a lot of inflammation — if you wear tight tops, bras, sports bras and the like. Also, pay attention to whether your handbag or schoolbag rubs against your back. If your back acne tends to appear in the centre of your upper back, consider switching from a racer-back-style bra to one with two shoulder straps.
Tie your hair up
In the same way that your bangs or fringe may contribute to your forehead breaking out (sometimes a problem due to hair products such as hairspray irritating your skin), if your hair hangs down your back, you might want to tie it up to keep it off your skin.
Shower right after working out
Heavy sweating may contribute to your back acne, so whenever possible, change out of dirty, sweaty clothing (especially your sports bra — a germy racer-back sports bra is not something you want touching the skin on your back for long) right after exercising, and wash up. Keep your back as clean as possible.
Try over-the-counter remedies
If you have a minor case of back acne, try cleansing and treatment options available in drugstores to treat facial acne, such as cleansers containing salicylic acid to help clear pores, benzoyl peroxide treatments for existing pimples and moisturizers containing alpha hydroxy or glycolic acids to help promote skin cell turnover. Remember, though, that these ingredients can make skin sensitive to the sun, so be sure to wear sunscreen to protect your skin.
Consult a dermatologist
If your back acne is particularly severe and these methods have not helped to clear up your skin, talk to a dermatologist about other methods. He or she may prescribe Accutane or Retin-A, or you may even discuss taking birth control pills as a way of levelling off your hormones.
More beauty tips
Blackheads be gone
Clearing your skin without overdrying
Eat your way to clear skin
More From SheKnows Explorer