Dealing With A Friend Who Puts Her Bf First
Your close girlfriend has a new boyfriend, and you're happy for her, but it seems she doesn't have time for anything else anymore. You ask her to go out for coffee or dinner as you normally do, but she's always busy with her boyfriend. This can get irritating, especially if you're single and can't exactly double date. Here are some tips to deal with a friend who has been neglecting your friendship for her new beau.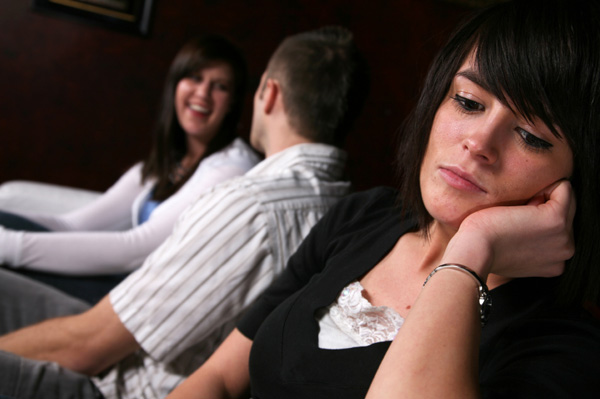 Ask to have girls' dates only
If your friend usually brings her boyfriend to your outings, making you feel like a third wheel, try asking her for a girls' day. This gently gives the hint that you'd rather hang out without any guys around, including her boyfriend.
Give her some space
If your friend's relationship is just starting, then it's new and still in the honeymoon phase, and she's still trying to learn more about her boyfriend by spending lots of time with him. This means you should give her some space (a couple of weeks or so). If you usually text each other throughout the day, text less often, but don't cut out your usual habits completely. Eventually your friend's relationship won't be new anymore, and she will learn to find a balance between friends, family and her boyfriend.
Spend time with other friends
This doesn't mean you should abandon your BFF and find a new one. Rather, spend more time with your other friends while you give your friend and her boyfriend some space. Not only will the extra attention to your other friendships strengthen them, but you will also be too busy to worry about your friend and her new relationship.
Talk it out
If all else fails, ask your friend if you could go out for coffee to talk privately. This will ensure it's just you two so you can have a heart-to-heart. Tell her you miss her. (Who doesn't like being missed? It's flattering.) Tell her that even though you're so happy she has a boyfriend, you don't feel your friendship is the same anymore, and you hope you two can work to find a balance so you don't feel like you've lost your best friend. If you're honest and ask to find solutions together, your friend isn't likely to get defensive.
Be supportive
Even though you might be frustrated, you have to remember she is your close friend for a reason. Whether you're single or in a relationship, you have had her support for years, and now it's time to be happy for her and supportive of her new relationship. Obviously this doesn't mean she should neglect you completely for a while, but this does mean you should show you're happy for her by being patient with her.
More on friendships
Don't let friendships flounder
5 Rules for investing in your friendships
Keeping in touch with friends overseas
More From SheKnows Explorer