Dealing With
Your Frenemy
We all have at least one frenemy in our lives. That one so-called friend who drives us up the wall, and yet we either can't cut them out of our lives or still have some sort of affection toward them that keeps them in our circle. Here's how to handle this type of relationship.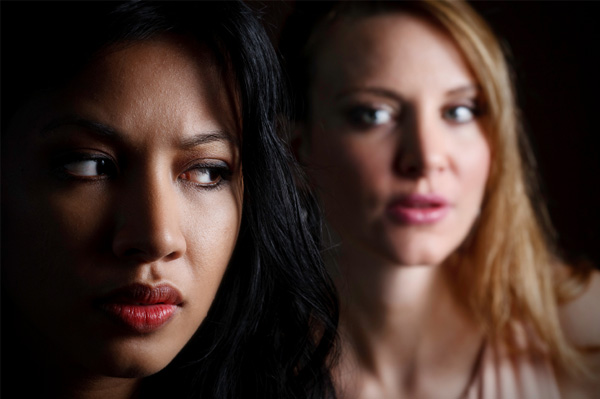 Unfortunately we often have friends we'd much rather ditch. They make passive-aggressive comments. They're super competitive and probably have a jealous streak. They can be mean, but under the guise of being your friend. For whatever reason, if you can't ditch them, here are some ways to help you manage the frenemy relationship without losing your mind.
Don't dish it right back out
Though this might be the most tempting option, dishing out unkind and snarky quips back to your frenemy won't ever lead to anything good or helpful, and don't you have better things to do with your time? It'll only make you a bitter, snide and resentful person — all such unattractive qualities — so resist this alternative.
Confront your frenemy
If you want to be upfront and bold, next time your frenemy makes an underhanded comment to you, call her out on it, but keep your cool. If, for example, she makes note of your having gained a few pounds, address it. Admit you have but that you're not concerned, as you're already working on shedding the extra weight. Say it with a sweet smile, as you don't want her to know she's gotten under your skin. You may be tempted to snipe back with your own passive-aggressive comment, but hold back, and don't fall into this trap. Your goal is to hold the higher ground and be the better person.
Ignore your frenemy
When she's made her usual snarky comments, acknowledge that you've heard her, but then change the subject, or talk to the person on the other side of you at the table. When the first opportunity arises, walk away so you don't have to interact with her more than you must. The less time together, the better.
Kill her with kindness
Let her attitude and comments slide off your back, and in return, shower her with kindness. It might be difficult at first, but you may find her surprised reaction and perhaps even discomfort amusing and rather entertaining. And who knows? This kindness (albeit forced) may even alter the entire relationship, and she may no longer be a frenemy to you. In fact, you may even find yourself getting to know each other better, and you may gain understanding of where her frenemy attitude stems from. She may even become a friend!
More on friendshiips
Help! My girlfriend turned into Bridezilla!
Identifying toxic friendships
Is there a right answer to "does this make me look fat?"
More From SheKnows Explorer