Shacking Up? Make
The Transition With Ease
Moving in together is an exciting time, but it also comes with many stresses. Here are three ways to make the process go as smoothly as possible.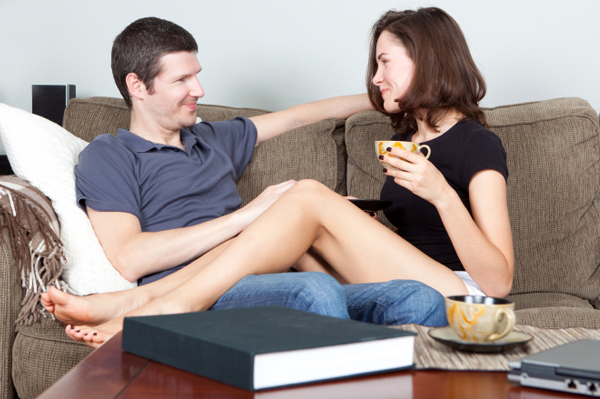 You've had a talk, and you and your boyfriend have decided it's time to move in together. Congratulations! While it is an exciting time, it can also be stressful on your relationship. Don't get so caught up in the romance of it all that you jump into living together without thinking it through and discussing a few key things first.
Here are some tips on making this big step in your life together go swimmingly.
If possible, move into a brand new place
Although it's not always feasible or doesn't necessarily make the most sense (perhaps one of you owns a great property), starting out living together in a new space may avoid some territorial arguments. When you move into his place (or vice versa), you may find yourselves bickering over where you can put your shoes or about your wanting to hold on to your sofa and get rid of his, and this can cause lots of tension.
Be clear on how you will split the bills
Before the move, discuss how you will share the bills. This is particularly critical if one of you has a mortgage and the other person is moving into that place (perhaps you'll cover utiliities and groceries rather than pay into the mortgage, since your name is not on the deed of the home, for example). If you make different salaries, will you split the bills evenly, or will you share them proportionately? Money is always a sticky topic, so it's best to be clear about this before scheduling the moving company.
Be prepared for his bad habits
While you will enjoy plenty of fantastic quality time together (cuddling in the hammock in the backyard, waking up and enjoying coffee together, etc.), know that everything won't be all rosy. He may not put the toilet seat down, or you may find out he leaves his dirty socks all over the bedroom and dirty dishes around the house — all habits he kept in check when you used to visit, but now that you live with him, you've discovered the truth. Similarly, though, you'll have habits he may not be so fond of. The idea is to work together on compromising and coming to a happy medium.
More on love
The pros and cons of living together before marriage
The health benefits of making love
The rules of dating as explained by The Bachelorette
More From SheKnows Explorer