Have Those Meaningful Conversations Again!
Do you find there's so much routine in your life that you can't even remember the last time you and your partner had a stimulating, intellectual conversation? Do you miss those nights when you would pick each other's brains on interesting topics, and wish you could talk about something other than everyday life? Read on for tips on how to bring conversation back into your relationship.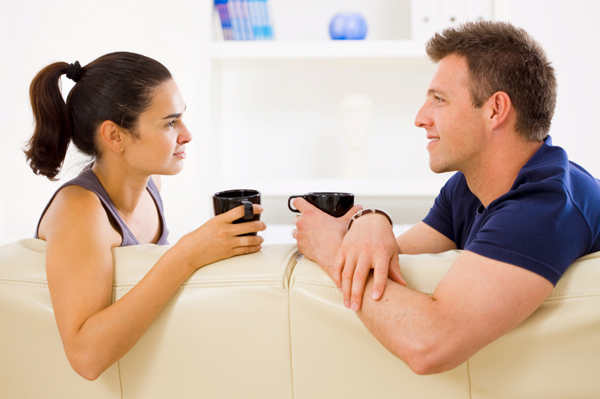 Make it the central part of a date night
Agree to have one night every week or so when you and your partner go to your favourite cafe to enjoy good coffee and good conversation. Pick a theme or topic that interests you both, and if you want to be extra cute, give a title to your chat session, like "Coffee and Company" or "Coffee and Conversation Date Night." If you find you discuss your relationship too much, try to stick to a topic you haven't discussed before.
Try Table Topics!
They're on Oprah's favourite list for a reason. These cubes, which you can get from TableTopics, come in different categories, such as "couples" or "happiness." Each box contains 135 cards filled with interesting questions you can ask each other. Going through some of these over dinner will add a bit of extra spice. Invite another couple, and make it a fun night in!
Go through old photos together
Going through old photos with your partner — even old family photos from your childhood — is a great way to share more about yourself while engaging in meaningful conversation. Learning more about each other is always a plus, but sharing childhood memories will especially give you more insight into your partner.
Create a bucket list together
Grab some paper and pens, and create a bucket list with your partner, where each of you lists what you want to do before you "kick the bucket." Creating this list together is a bonding experience, as you get to learn about each other's most daring dreams and goals. To make things more interesting, try to guess what's on each other's list. The list is sure to spark plenty of conversation and bring you closer together.
Play together
I don't mean play together like adults; I mean play together like children. Go to the park and enjoy the swings, build a sandcastle, bike together. Do you remember lying in the grass with your friend and talking about the shapes of the clouds or swinging together while having a conversation? Playing together is an easy way to promote conversation without any pressure.
More relationship tips
Why you shouldn't be Facebook friends with your partner
Why fighting is good for a relationship
Ways to bring fun back into your relationship
More From SheKnows Explorer