Find the perfect fit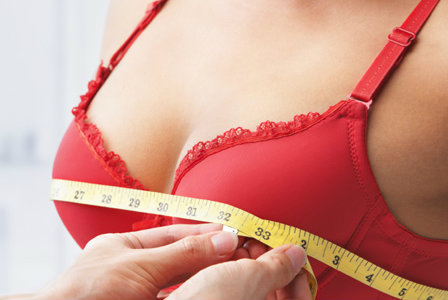 Every woman knows the hassles and annoyances associated with finding the right bra and a comfortable, supportive fit. Keep the girls and your back happy by learning how to find the right bra for you.
Get the support and comfort you need
Leading Canadian specialty lingerie retailer La Vie en Rose shared some insight on how to find the perfect bra and explained how to deal with the common issues many women struggle with when it comes to fit.
When to get a bra-fitting
To get the most accurate measurement, some of the most important factors to keep in mind are what time of the month it is for you and what age you are. The Vice President of Design and Product Development at La Vie en Rose, John Izzo, says, "It's best to get fitted once a year since your [body goes] through many changes: weight loss or gain, pregnancy, stress, etc." In terms of when in your cycle is the best time to get fitted, he added, "If you suffer from water retention, it is better to get fitted after your period, as your breasts will return to their normal size."
All about straps
It is important to note that when a bra fits properly, the support does not come from its shoulder straps; instead, 90 per cent of the weight should be supported by the torso band, says Izzo. In fact, shoulder straps are designed to stabilize the bra cups and are not actually meant for breast support. "They help the bra stay positioned on the body during different movements," says Izzo.
But what happens when your straps dig into your shoulders? How do you correct that without the straps sliding around and dropping off your shoulders?
"Straps shouldn't be adjusted so tight that they cause pain," Izzo says. "Since a well-fitted bra gets most of its support from the torso band, there is no reason for the shoulder straps to dig in. If they do, you are probably wearing the wrong bra size."
Izzo says that over time, shoulder straps loosen, so it's important to tighten them little by little as necessary. Many bra styles also now offer a back clip to pull the straps together to create a racerback style, which keeps the straps from falling down.
A well-fitted, comfortable bra should give firm support around your torso and ribs; the cups should be deep enough to surround the volume of the breasts; and the bra should have fitted shoulder straps and underwires that don't dig in. Common issues like squeezed skin around the torso strap and the back riding up are both signs that the bra is the wrong size.
Get the right fit
Keep in mind these three basic principles when searching for a well-fitted bra:
You should feel supported.
You shouldn't feel the underwire.
There shouldn't be any spillage from the cups or from the sides.
So how do you achieve these goals? Remember these tips from La Vie en Rose:
You should make sure it fits properly at the last notch, because bras will stretch over time, and that way you can tighten it as it stretches.
The type of cup to choose really depends on what you are looking for. Generally larger breasted women don't want extra padding, so they go for full coverage and no padding. Smaller breasted women more often look for push-up bras.
If you want more support, choose a bra with wider straps.
A strapless bra should have silicone piping on the inside to prevent slippage.
Nude looks best under all colours, including black and white.
A wider torso band will help prevent "back fat."
To extend the life of your bra, don't wear it two days in a row.
More fashion tips
How many shoes do you need?
Your guide to wearing nude
Showing skin in a sexy yet sophisticated way
More From SheKnows Explorer