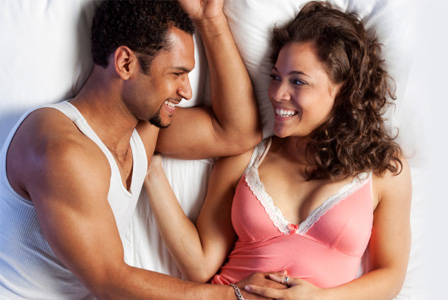 We all want sex to be pleasurable, and after childbirth, some positions are better than others for pleasure without the pain.
Don't let your new baby drag down your sex life
Missionary
This tried-and-true position is one of the best just after you've had a baby. Pressure is kept off your perineum, and if you had a C-section, your abdomen isn't bearing the brunt of any pressure. This position allows you to ease into things, and it's a good position if you're feeling self-conscious about your after-baby body.
Spooning
Lying side by side, either facing each other or away from each other as you would in a cuddle, is the spooning position. This position is great if you underwent a C-section birth, because it will keep pressure off your C-section scar, and it allows you to control the speed and depth of penetration, making sure sex stays pain-free.
Woman on top
Not only is this position fun because you can be in control, but it's also a good position after childbirth because you're in control. You can direct the experience based on any pain or discomfort you're feeling — or not feeling, hopefully.
The School of Rock (a.k.a. chair sex)
Have your man sit on a chair with a sturdy back, then straddle him and rock back and forth. This takes you out of the bed — which is always fun — yet still allows you to be in control. It also keeps the pressure off your perineum or incision.
Avoid doggy style
If you don't experience any pain after childbirth, this position is fine, but if you're just starting out again, you might want to avoid this one. A lot of pressure is put on the perineum, and it's harder for you to control the speed and depth of penetration, which could make sex painful.
keep in mind
Make sure to wait the recommended six weeks postpartum before resuming your sexual relationship. There are still some fun ways to keep that closeness while you wait for your doctor's OK, and when you get it, your sex life will be back on track and better than ever.
More on sex
14 Ways to keep the spark alive while trying to conceive
Top 10 positions for better sex
Fun facts about sex
More From SheKnows Explorer