Playboy Playmate Playing Christ's Mother
This Christmas, Canadian television viewers will be treated to a sight never seen before. The porn queen and Playboy playmate, Pamela Anderson, will be portraying the Virgin Mary in CTV's "A Russell Peters Christmas".
A Russell Peters Christmas will not be your typical Christmas show. We are guessing that it is not even going to be a family show. Pamela Anderson will be portraying the innocent mother of Jesus Christ, and everyone knows she is anything but innocent. Comedian Russell Peters talks about his special calling it "an irreverent twist on the Christmas special making it unlike anything viewers have seen before."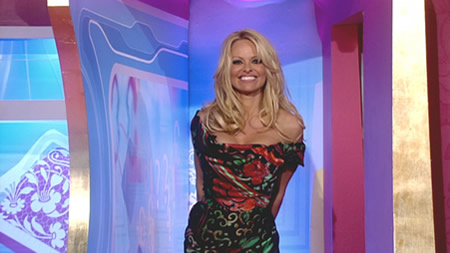 Pamela Anderson is not the only big name to sign on for the Russell Peters Christmas special. He also got Michael Buble, Jon Lovitz and Ted Lange to agree to play parts in his comedy. If the name Ted Lange does not bring instant recognition in your mind, think Isaac, the bartender from The Love Boat.
A Russell Peters Christmas will air on CTV on December 1, unless of course outrage in the Christian community derails the show.
Pamela Anderson is actually a Canadian-American actress which many people don't know since she shot to fame in the US with her Playboy issues, sex tapes,  as well as the hit shows Home Improvement and Baywatch. The actress has lied low in the past few years though, handing over the controversial spotlight to other actresses like Kim Kardashian, who shares Anderson's affinity for making porn movies.
Pamela Anderson's career seems to have flopped lately though. Her most recent jobs include guest starring on several international reality television shows, including Big Brother in the UK and India. She has also appeared in a few unknown movies. Since no one seems to want to see her in Canada or the US, if she plays it right, becoming a virgin again in A Russell Peters Christmas may just be what it takes for her to jumpstart her career once again.
Photo courtesy of: Wenn.com
More Pamela Anderson articles
Pamela Anderson to play Virgin Mary
Pamela Anderson returning to Playboy
More From SheKnows Explorer