Cruise Wants To Make David Beckham A Hollywood Heavyweight
It may sound impossible, but Tom Cruise thinks he's got what it takes to make David Beckham a film star.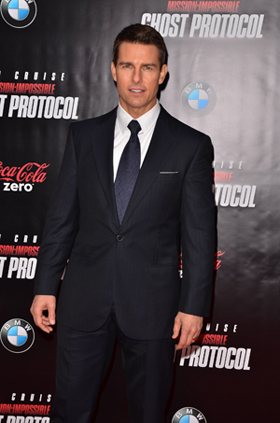 Tom Cruise is searching for the right script to propel David Beckham to box office glory in Hollywood. With his soccer career winding down, acting would be a great way of staying afloat in the public eye. The soccer star even has film experience, appearing in the Goal! trilogy, but was ironically overlooked for a role in Bend It Like Beckham. Cruise told Mirror that we shouldn't expect him to be the next Hollywood funny-man, stating, "I'd love to do action movies with Beckham. He would be great. He could kick a**."
The news of the two potentially working together shouldn't come as a surprise, as Beckham and Cruise have been close friends for many years now. It was reported that Tom sent the velvet jacket he wore in Jerry McGuire to David after hearing that him and his wife, Victoria Beckham, watched that movie on their first date.
It was only a matter of time before these two stars collaborated as their wives, Victoria Beckham and Katie Holmes, are close pals as well. Both ladies own fashion lines and love swapping clothes, even calling each other to coordinate colours. "I'm always interested in what she's liking for the season," Holmes told ELLE.
And who knows? Cruise and Beckham may be heating up the big screen in an action-filled butt-kicker sometime soon or Victoria and Katie may collaborate for a super-mega fashion line on the runway.
Photo courtesy of C.Smith/WENN.com
More on these stars
Tom Cruise gets sassy in new Mission: Impossible Ghost Protocol clip
David Beckham still alive and kickin'
Victoria and David Beckham party with celebrity pals Katie Holmes in Los Angeles
More From SheKnows Explorer