The Famous Muppet Wants Some Eye-Candy
Watch out, Clooney, Miss Piggy has her sights set on you! The diva-puppet proposes a contest -- loser buys dinner.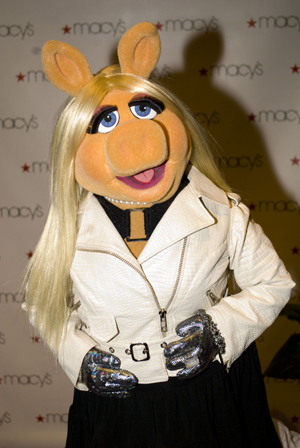 Let's see, this little piggy went to market, and this little Miss Piggy challenged George Clooney to a wrestling match.
The star of the new The Muppets movie, Miss Piggy, is eager to meet George Clooney, who's currently dating Stacey Keibler, a former wrestler.
"I don't wrestle girlfriends. However, if George wants to wrestle, bring it on! Best two out of three falls? Winner gets a dinner?" said the puppet actress.
Get in line, lady! Millions of women are ready to pounce and wrestle for the opportunity to come as close to George Clooney as their restraining orders would permit. Just sayin'.
Coincidentally, Miss Piggy is the official red carpet host for the BAFTAs this year, which will really help toward casually bumping into Clooney.
And she has also revealed the extensive daily beauty routine that will have her looking her best for the award show.
"I wake up at the crack of dawn, realize it's far too early to get up, then go back to bed and sleep until mid-morning. Then first thing, I meet with my personal trainer. Not only is he a gorgeous hunk, but he does the workout for me," she gushed.
"Hey, if I'm paying, then he's sweating, not moi. After a relaxing massage and a healthy brunch, my diva-certified crew of stylists, hairdressers, makeup artists and sycophants arrives to prepare me for the day."
If only everyone had the budget for a professional sycophant, the human populace would be brimming with high self-esteem. Alas, it is not so.
But at least we have the opportunity to watch the hilarious puppet lead the red carpet at BAFTAs, which will air this Sunday.
Who knows? Maybe she will wrestle George Clooney.
Photo courtesy of: C.M. Wiggins/WENN.com
More on George Clooney:
George Clooney gets no love from Spirit Awards
George Clooney talks sex and farts
George Clooney to actors: Quit the complaining
More From SheKnows Explorer