Actor'S Guards Dishevel Disabled Woman
Smells like trouble. Johnny Depp is being sued by an unidentified disabled woman, who alleges that the actor's security detail forcibly removed her from the VIP section at an Iggy Pop concert.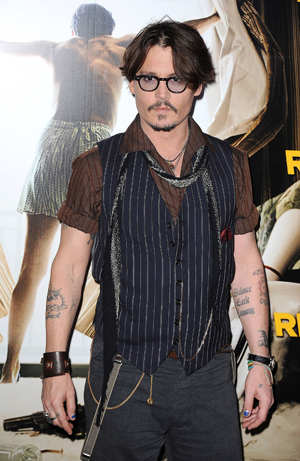 Oy, bring on lawsuit season!
This case is a little muddled; let's make sense of it together. Johnny Depp and the Hollywood Palladium are being sued by an anonymous woman for being hassled by the actor's security detail, resulting in her clothes becoming dishevelled as well as her sustaining several minor injuries.
All right, let us begin the unravelling. The mystery woman is reportedly a 52-year-old medical professor at UC Irvine, who is disabled. The alleged incident took place at an Iggy and The Stooges concert last December (lawsuit filed yesterday), which the victim attended with her husband for his birthday.
So what happened?
Allegedly the woman was prevented from returning to her VIP seat by Depp's security guards, who confiscated her phone and dragged her across the VIP section. Security then handcuffed the woman and pulled her through the Palladium, causing her trousers to fall off and exposing her posterior to fellow venue patrons.
The plaintiff immediately went for an emergency examination and filed a report at the police station. She reports cuts and bruises as well as aggravation of a previous condition (the woman claims to have spondyloarthritis). Some sources report the plaintiff was inebriated when filing the report, but that has not been confirmed.
The anonymous woman is suing the venue and Depp for unspecified damages for negligence, assault, battery, false imprisonment, intentional infliction of emotional distress and discriminatory practices in public accommodations. Depp's camp is being awfully quiet about the matter.
That's a hefty charge right there, longer than a shopping list. What do y'all think?
Photo courtesy of: WENN.com
More on Johnny Depp
Sharpen your stilettos: Johnny Depp is almost single
Vanessa Paradis finally denies Johnny Depp split
Johnny Depp says he's overpaid
More From SheKnows Explorer