Books For When
You Need An Easy Read
There are times when you feel like flipping through the works of Shakespeare or sitting down with a good Dickens novel. But there are also times when you just want to sit on your patio or lounge on the beach with a really easy read. For those moments when you wish to simply relax and enjoy your reading time, these authors are ready and willing to help you out.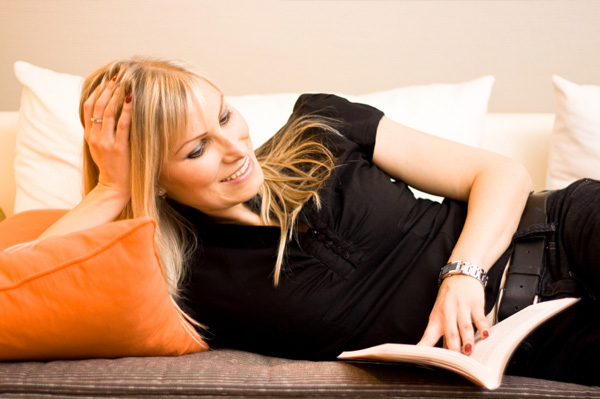 Nicholas Sparks
Let's face it, ladies: Any man who wrote the books off which films such as The Notebook and A Walk to Remember were based is worth a read or two. Nicholas' books cover every type, age and depth of love. Whichever sort of love story you are in the mood for, there is likely a Sparks novel that will hit the spot. Sure, the movie versions are great, but curling up with one of his books lets you truly get to know the characters and to fully immerse yourself in the romance. So the next time you're on vacation or just need to take a step back from reality, pick up a Nicholas Sparks novel, and you'll be in a whole new world in no time.
Sophie Kinsella
British writer Sophie Kinsella — born Madeleine Wickham — is probably best known for her six-part Shopaholic series that began in 2000. The heroine of the series, Becky Bloomwood, is outrageously funny, hilariously flawed and downright witty. Kinsella adds humour to everything from finances, to men, to fashion and more. The whole Shopaholic series is a great place to start enjoying her work if you want to experience Kinsella's light and entertaining writing. She also has several stand-alone books, such as Can You Keep a Secret? and The Undomestic Goddess. If you check out her website, you'll find she is constantly coming out with new books, and one of them is sure to be the perfect option to help you relax and unwind!
Marian Keyes
Marian Keyes is an Irish-born writer who has been publishing novels for over 15 years. The truly unique aspect of Keyes' writing lies in her ability to perfectly blend hilarious comedy with dark realism. Her characters are witty, sarcastic, self-deprecating, silly and ultimately wonderfully human. Through these comedic and yet highly believable people, Marian tackles real issues, such as trauma and addiction, in an honest way. The clever dialogue and winning romances let you feel as though you are enjoying a guilty pleasure while you are subtly being educated on real-world issues. Her novels may not be pure guilty pleasure, but in many ways that makes them even more worth checking out. Reading a Keyes novel is an exceptionally enlightening experience, so it's lucky for us that there are so many options to choose from!
more fun hobbies
Fun old-fashioned hobbies to try today
How to break into the blogging world
Sewing tips for beginners
More From SheKnows Explorer