Would It Kill
You To Smile?
No matter what she's doing, it seems like Kristen Stewart is only capable of appearing unenthused. At least, that's what the untrained eye might think. We help you understand what's really going on behind Kristen's signature grimace.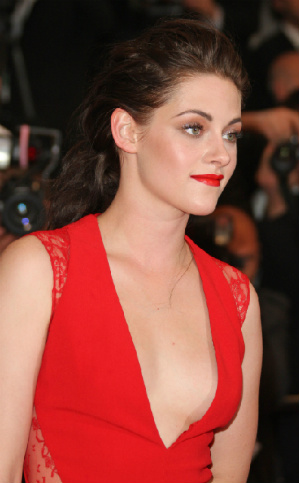 No matter where we turn this month, it seems like we can't escape the visage of Kristen Stewart. In the last few weeks, we have seen the release of her butt-kicking version of Snow White, Snow White and the Huntsman; we have borne witness to her ubiquitousness at Cannes, promoting her own film, On the Road, and standing by boyfriend Robert Pattinson as he promotes his, Cosmopolis; and we have rejoiced at the recent unveiling of the new posters for the last instalment of the Twilight saga, Breaking Dawn Part 2.
Yet despite all of her incomprehensible career success at such a young age, not to mention the fact that she is dating one of the most swoon-inducing young men in Hollywood, Kristen rarely ever appears happy. In fact, she looks downright miserable most of the time, her gloomy face starkly contrasting the vibrant gowns she dons on the red carpet. What's the matter, Kristen? Are your Jimmy Choos and exploding wallet giving you a backache?
Don't be fooled, ladies. What the untrained eye might understandably mistake as Kristen's unshakably bored entitlement is actually a subtely nuanced display of a broad spectrum of emotions. Allow us to offer some insight into the enigma that is Kristen Stewart's face; perhaps our interpretations will help you better understand the seemingly most unhappy girl in Hollywood.
Kristen's "Get me off this red carpet, STAT" look
Amidst a sea of beaming and mugging celebrities at any major event, it's not hard to pick out the one face that looks like it would so rather be somewhere else. But is that really what her expression is reflecting? Kristen Stewart was recently declared the world's best dressed woman by Glamour UK. Without fail, Kristen shows up on the red carpet clad in something that is bound to turn heads and divide opinions right down the middle. With the responsibility of being such a fashion icon, Kristen understands the importance of letting her gowns shine. What looks like utter boredom from the sea of flashing cameras is likely a stoic respect of what she is wearing. Kristen would never dream of upstaging the beauty that is her red carpet dress or the designers who created it. She knows that to let her dress do the talking rather than a falsely enthusiastic face is what will ultimately land her the title of best dressed woman ever.
Kristen's "Don't mess with me" look
You know the one: chin slightly out and up, narrowed eyes, a slight smirk. Running in to a face like that in an alleyway would send even the toughest punk running in the other direction. But don't misunderstand Kristen's apparently challenging expression: We believe this is her way of communicating how hungry she is. Between press junkets, TV interviews and premieres, Kristen must barely have time to sit down to a nice home-cooked meal. Everyone needs to eat, and that doesn't exclude celebrities. So if you do run in to Kristen in a dark alley and she greets you with that face, don't flee the scene; instead, give her a club sandwich and watch that expression melt away.
Kristen's "OK, I'm smiling, are you happy now?" look
Every now and then, we are reminded that Kristen has teeth when she graces us with a larger smile than her more standard tight, closed-lip one. And while beggars can't be choosers, sometimes Kristen's decision to quell the constant criticism of her miserable face with this broader smile comes across as even more unhappy than her grimaces: There appears to be significant effort involved in holding her mouth in a recognizably happy expression. But that effort you're reading is not a sign of Kristen's resentment, as you may have thought. In fact, we believe it is an indication of Kristen's focused determination to not overdo her excitement. If she didn't control her smile as she does, Kristen might burst into uncontained fits of happiness and laughter that might have people even more worried about her emotional well-being than they already are.
Kristen's "Seriously, don't mess with me" look, coupled with a middle finger
There's no other interpretation for this one as far as we can tell; it's as literal as you get. If you encounter Kristen looking like this in an alleyway, drop the club sandwich and run.
Image courtesy of WENN.com
more celebrity news
How to help Chad Ochocinco through his devastating loss
Keira Knightley and James Righton are engaged!
Lindsay Lohan's Liz Taylor movie casts co-star
More From SheKnows Explorer