Blake Lively Takes
Her Time Making Friends
Blake Lively knows what a real friend is. The Gossip Girl star has revealed that even though she lives in Hollywood, where making the "right" friends is key, she doesn't get swept in up in the fake people and has a process to find only true and real amigos.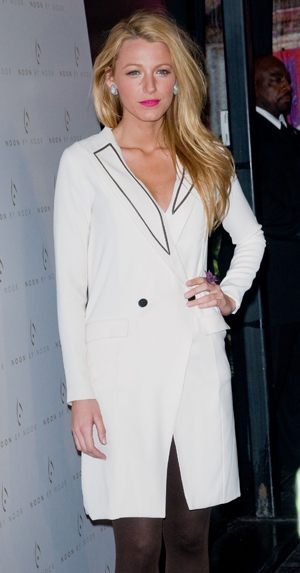 Blake Lively has some very high expectations when it comes to forming new relationships.
The blonde siren and Gossip Girl star tells Bullett that becoming a close chum of hers is a lengthy process.
"I'm slow to build friendships," says Blake to Bullett. "But they always end up being long and lasting."
We didn't think Blake would be slow when it came to forming companionships, especially since it didn't take her too long to partner up with now live-in boyfriend and Canadian-born actor Ryan Reynolds. We always thought somehow that she was like her Gossip Girl character, Serena, and loved to make new friends all the time. However, the 24-year-old says she meets people in her own unique way.
"The way that I meet people is the same way that I've always met people. It might be weird if I was on JDate, but I'm not, so that's good," says Blake. "I meet so many people in passing at parties, but I've never been a person who's like, 'I know I just met you, but let's exchange numbers and be best friends.'"
Sounds like she's pretty choosy, eh? But we can understand that, since the Savages star must meet a lot of people who pose to be her friend, when in reality they have no intention of truly befriending her. I think that's called the what-to-do-when-you're-new-in-Hollywood rule of thumb, isn't it?
But anyway, Blake says her choosiness is all part of her strong, steadfast personality, which, she says, helps her not only find and keep good friends, but also helps her in her acting career.
"I'm not in the business of trying to win the approval of my cast members, my director or my audience... The only person I'm trying to prove something to is myself."
Photo courtesy of Ivan Nikolov/WENN.com
More on Blake Lively
Blake Lively gets restraining order against mind-reader stalker
Ryan and Blake not so welcoming to neighbours in new area
Blake Lively's sexy Savages role is "hard to digest"
More From SheKnows Explorer