Star Seen Moving
Into The Party House
Oy. Babies and whisky do not sound compatible. Snooki was seen moving back into the Jersey Shore house along with the rest of the cast. Is she staying?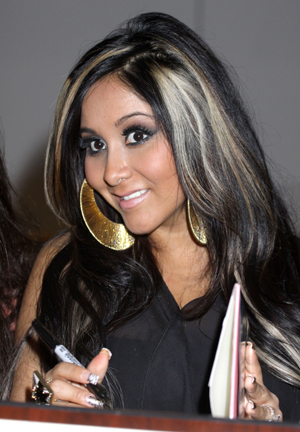 Hopefully y'all got your tanning bed coupons, hair spray and seven tubs of eyeliner ready, because… Jersey Shore is a-comin'!
The cast of the reality television series was snap-a-roo-ed moving into the Jersey Shore house yesterday, as was… preggers Snooki?
Now, before we assume that the pint-sized guidette just could not resist the party atmosphere of the house and is planning to deliver the baby in the hot tub, let's get all the facts.
"What they will probably do is have her there first for a day or two. But then she'll move into the new place. Trust me, she will not be living in that house," a source told E! News.
Oh, phew! Putting a pregnant woman in that house is like dropping a toaster in the bathtub… But we won't go graphic with that comparison.
What do you guys think? Sharesies.
Photo courtesy of Michael Carpenter/WENN.com
More on Snooki
Snooki quits tanning?
JWoww and Snooki get heat from PETA
Snooki reveals she's bisexual
More From SheKnows Explorer