Fresh Criticism Of Parker's Obama Ad
Oy... An organization on marriage claims that Sarah Jessica Parker's Obama ad openly advocates polygamy and incest. Is it true?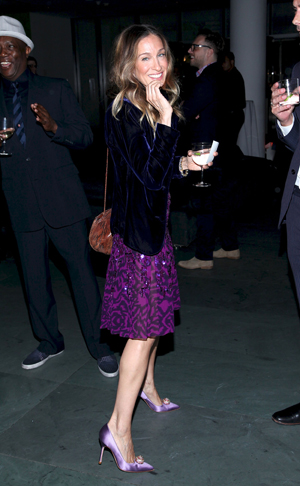 Well, as if the immediate fistfuls of criticism thrown at Sarah Jessica Parker's ad for an Obama fundraiser were not enough, here's some more…
The National Organization for Marriage (NOM) — oh yes, it's real — thought Parker's TV spot not only showed support for the president, but also advocated polygamy and incest.
What? You didn't catch that secret message in the ad?
Then listen up. According to Carson Holloway's blog entry on NOM's website, when Parker coyly says, "[Obama is] the guy who says you should be able to marry anyone you want," she's really saying, "you should be able to marry someone who is already married, you should be able to marry your father, your mother, your sister, your brother, whoever."
And then Holloway drives the point home with, "Taken as stated, the president's position, proclaimed by his actress-spokesperson, is to personally advocate polygamous and even incestuous marriages."
Well of course there is no other possible interpretation. Most of us are just primitive-minded people who assumed Parker was referring to same-sex marriage, but the folks at NOM cut right through that shady facade and uncovered Obama's stealthy free-lovin' agenda. And he almost got us! Thanks, NOM!
It seems too obvious to point out the absurdity of Holloway's "analysis" of Parker's message, but what can you expect from an organization based on the beliefs that gays have no right to redefine marriage and that it should always be the union of a man and a woman (no joke). Only straight people have the right to define marriage. Duh. Civil progress is as overrated as public health care.
Without further digression, NOM or Holloway was obviously nitpicking at the wording, which Obama does not use in his platform, and hence, cannot be accused of advocating.
But what do we know? Opinions?
Photo courtesy of Andres Otero/WENN.com
More on Barack Obama
The campaign to get Obama to host SNL
Drake to play Obama?
George Clooney raises $15 million for Obama's campaign
More From SheKnows Explorer