Millionaire Matchmaker Gives Stacy Some Advice
Patti Stanger isn't afraid to offer helpful relationship advice, and now the Millionaire Matchmaker has offered some of her coveted advice to one of Hollywood's hottest couples.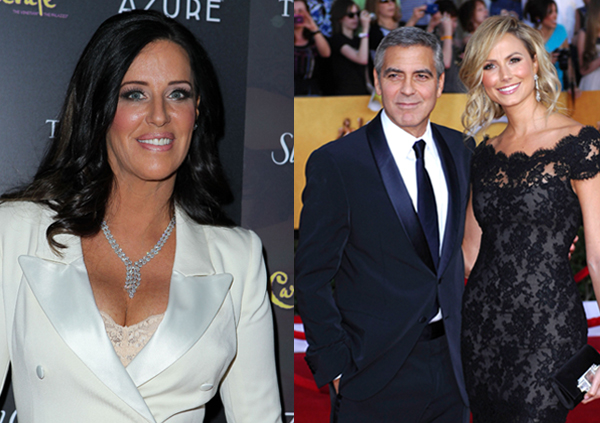 Patti Stanger is a pro at giving out relationship advice, and now she is counselling the stars, whether they want to hear it or not.
The Millionaire Matchmaker, whose addictive reality dating show on Bravo has got singles all over the world wishing to find a millionaire husband or wife of their own, has been dishing out marriage advice to George Clooney's girlfriend, Stacy Keibler, on how to nab the popular and attractive George as a spouse.
"She said that George needs to propose within a year of them being together," says a source to Us Weekly, who reportedly heard Patti say this to Stacy at a jewellery party in Las Vegas.
Now, those addicted to Patti's show know she is absolutely honest and almost always right when it comes to offering advice, but she may have to withhold her comments, since The Descendants star has nonofficially vowed to never get married again. George was married to actress Talia Balsam from 1989 to 1993, and since then has never put a ring on another lady's finger.
But that doesn't necessarily mean George objects to marriage. In March, the actor told The Hollywood Reporter that he believed in marriage equality and wanted equal rights for those who wanted to get married, either straight or gay.
"It's important to be on the right side of history. In 20 years, I don't want anyone to wonder where I stood," said George to THR.
So does this mean George is still a secret fan of the marriage union?
No word yet whether Stacy plans to take Patti's advice, but if she does, the clock is ticking to almost a year...
Photo courtesy of Judy Eddy/WENN.com and Apega/WENN.com
More on George Clooney
George Clooney is irresistible, whether he likes it or not
George Clooney raises $15 million for Obama's campaign
George Clooney struggles with sleep, alcohol and lonlieness
More From SheKnows Explorer