13-Year-Old Onset
For Final Day Of Filming
That's how you put a positive spin on a tragedy. The youngest Eaton Centre shooting victim received a VIP tour of the Flashpoint set after praising the show for helping him.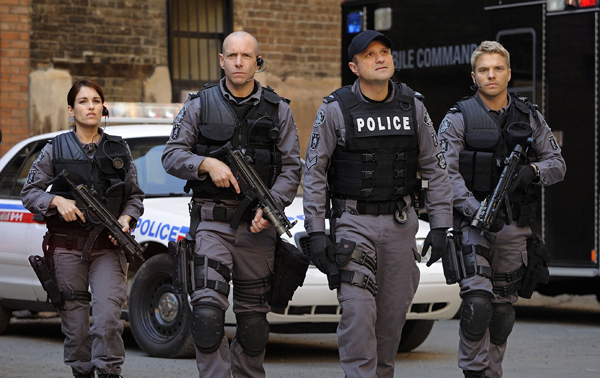 This one goes out to all those "book smart" people out there, who claim television is not beneficial for us… Ha!
The 13-year-old Eaton Centre shooting victim (whose name cannot be revealed) and his family saw a resemblance between an episode of Flashpoint and the tragic events of June 2 in Toronto, which surprisingly gave them knowledge of how to handle the situation.
"When that young man was wounded, his sister was telling me she remembered [a] Flashpoint episode," stated Hugh Dillon, who plays Ed Lane on the CTV show.
"So now, when there's a real horror show and some real tragic event, these people were able to get a little glimpse of what we do on the show — thanks to the real cops — and use it to save that young man's life.
"That young girl calmed her brother down, slowed [his] breathing... just the things she'd seen on the show."
How amazing is that? If you're unfamiliar with the show, it focuses on a Canadian elite task force that handles extreme and delicate crime situations, such as bombs, hostages and whatnot. It showcases a lot of Canadian acting talent, like Hugh Dillon, Enrico Colantoni, David Paetkau, Amy Jo Johnson and many, many more.
Fun fact: The youth and his family received a special tour of the Flashpoint production set on Monday, which was the last day of filming of the show's final season. Hugh Dillon even gifted the boy with the sunglasses Ed Lane wore in the series!
See? Plenty to learn from the moving picture box. We'd never know how to dougie, or cook, or handle hostage situations…
Opinions?
Photo courtesy of WENN.com
More on entertainment
Plagiarizing sexy? Channing Tatum defends Magic Mike moves
Blake Lively felt "awkward" in Savages menage a trois scene
BBC supporting an art channel pilot
More From SheKnows Explorer