Singer Injured
And With Crutches
Did somebody bust an ankle while busting a move? Kelly Clarkson posts a photo of herself in a wheelchair. So what happened?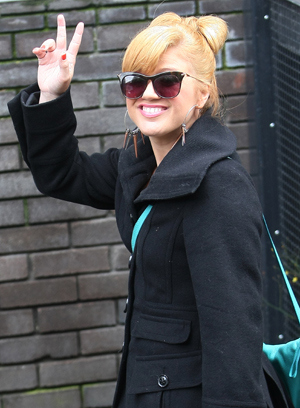 So yesterday Kelly Clarkson posted a photo of herself on WhoSay sittin' pretty in a wheelchair with a pair of crutches…
What in the world happened?!
OK, to begin with, it's not for a movie role, she did not replace her legs with bionic extensions nor did she steal the chair from an elderly lady for her own wicked amusement.
"Sprained my foot and have a hairline fracture but the show must go on people ha! Thank you @ashes2lashes & @Jillandkate for the help!," read the message accompanying the photo.
Oh-em-gee, how did she fracture her hairline?
That's a joke, people. Despite the misleading name, a hairline fracture occurs in weight-bearing bones; so, in the feet and ankle regions. Visually it's a very thin crack in the bone, hence the term hairline fracture.
Clarkson did not specify the cause of her injury, which just fills our heads with countless scenarios — from hiking in the Himalayas to rescuing tigers in Sikhote-Alin.
There ye have it. We wish Clarkson a speedy recovery — we need them dance moves.
Photo courtesy of WENN.com
More on music
For the love of food: Nicki Minaj pays big for chicken order
Jake Owen is going to be a dad!
Civil Wars' Joy Williams has a baby boy!
More From SheKnows Explorer