No Forgive And Forget For The Queen Of Pop
It may seem like centuries ago to us, but a Delaware company remembers the offence as if it were yesterday. VMG is suing Madonna for sampling another track in her hit song "Vogue."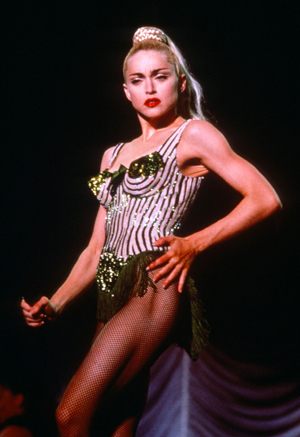 We're not sure whether this is ambitious or just sad.
A Delaware-based company, VMG, filed a lawsuit against Madonna and her record label over the 1990 song "Vogue," claiming it sampled the 1977 track "Love Break."
Madonna's hit song was produced by Richard "Shep" Pettibone, who also happened to have worked on "Love Break." Pettibone is subject of the lawsuit as well.
The suit alleges, "The portions of 'Love Break,' which have been copied into 'Vogue' and all its various 'mixes,' 'remixes,' videos, YouTube versions, etc., are numerous but intentionally hidden. The horn and strings in 'Vogue' are intentionally sampled from 'Love Break' throughout."
VMG also claims it was not possible to detect the copyright infringement until new technology became available in 2011, allowing the company to deconstruct Madonna's song.
The company is seeking unspecified damages as well as "profits that are attributable to the copyrighted material."
Someone's been holding a grudge. Has this company been waiting for over 20 years to dissect "Vogue" and point their grubby fingers at the sampled portion of "Love Break"? There are many ethical methods of making money… Kicking something that's dead ain't one of them (sorry, but who still listens to that song?).
We say, as a compromise, VMG should team up with Madonna and release "Vogue Break," an upbeat dance tune aimed to revive the vogueing movement; the profits will be split equally. Sounds like a hit to us.
What do you think?
Photo courtesy of WENN.com
More on Madonna
Madonna plans to be tougher on her kids
Elton's hubby disses Madonna
Madonna faces legal drama over perfume logo
More From SheKnows Explorer