Guns To Heads = Bad
Being irresponsible is part of a celebrity's job description, but lately it seems like Hollywood stars have been behaving particularly badly. And we're not impressed.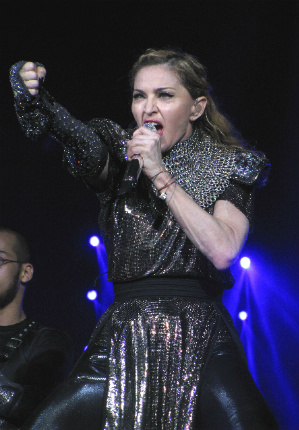 Seriously, though, what is going on in Hollywood? By now we've all grown used to celebrities and their crazy, attention-seeking antics. From going panty-free in public to distributing sex tapes like they're party favours, Hollywood stars certainly know how to make an inappropriate impression. But recently it seems like celebrities have gone from toeing the line of shocking to blasting right across it.
Let's start with Daniel Tosh's now infamous "joke." After a woman heckled the comedian about rape jokes not being funny (he had made some during his set at a show at Laugh Factory), he asked the audience how funny it would be if she "got raped by, like, five guys right now." Naturally very few people thought this would be funny. Since it is not funny; it is simply a violent and enormously troubling remark that makes us wonder how it is possible something as inconceivably violating as rape might become the topic of such a careless, tasteless joke. The fact that Daniel has such a large following makes this an even greater cause for concern.
And now a little fad seems to have begun that involves stars pointing guns at their heads. Leave it to Lindsay Lohan, whose penchant for misbehaving is now legendary, to be the trailblazer in this practice. Not long ago photos came out of LiLo pointing a gun to her head, her throat and into her mouth. The pictures, taken by controversial photographer Terry Richardson, were meant to evoke suicide. Based on the backlash both he and Lindsay received, it seems Terry must have meant career suicide.
Ever eager to keep up with the wild kids, Madonna has now followed LiLo's faux suicidal lead. Currently on her MDNA tour, which can only be described as the world's most extravagant mid-life crisis, the adamantly still-hip-enough-to-keep-up-with-the-young-kids Madonna decided to copy LiLo during a recent concert in London and hold a gun up to her own head. The response has been loud and furious, which is likely exactly what the desperately controversial Material Girl was going for.
Listen, we know celebrities are going to push the envelope; in this day and age, that's just part of the job description. But there is a limit to how far that envelope can be pushed before they should have their celebrity cards revoked. Perhaps a seminar is required to remind celebrities of their responsibilities as public figures, that insecure, impressionable people are watching their every moves. When those moves not only make light of violence toward oneself and to others, but encourage it, they are demonstrating the most dangerous, far-reaching form of irresponsibility. At least a DUI stands to harm only the star's reputation and whatever few unlucky people might be in the car's path.
So to any celebrities who are thinking of making headlines in the same way the ones above have, we implore you to pick up a cupcake instead of a gun and to make jokes about puppies instead of about rape. And if you really need to cause a stir, just talk to Charlie Sheen; we're sure he has a few good pointers on how to ruffle feathers without encouraging violence.
Image courtesy of WENN.com
more entertainment news
Britain bans Katy Perry's and Bieber's acne cream ads
Halle Berry "healthy" after nasty fall
The real deal: Mila Kunis doesn't put on an act in public
More From SheKnows Explorer