Canadian Actors
Lead New Sitcom
It's always great to see our people represent Canuck-land on television, and Sarah Chalke agrees. She's starring in a new ABC sitcom with fellow Canadian actor Jon Dore.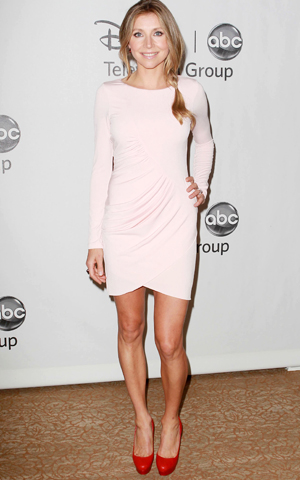 Canadians, unite! All for the love of comedy…
Ottawa-born Sarah Chalke is super excited to work with a fellow Canuck actor in the new sitcom How to Live with Your Parents (For the Rest of Your Life).
Chalke plays a single mother who is forced to move in with her eccentric parents (played by Brad Garrett and Elizabeth Perkins) and start her life anew. The actress will be sharing the screen with Jon Dore (coincidentally also Ottawa-born), who plays her ex-husband.
"He's so ridiculously funny," Chalke stated at a TCA preview session. "As an actor, when someone walks in, either you're right for the part or you're not. And I experienced that with him because he came in, and he read, and we all looked at each other afterwards, and we were like, 'Are you kidding me?' I mean, he just nailed it."
But what's even better than working with Dore on an exciting new sitcom?
"The cast is 50 per cent Canadian, which is great."
That's right. Canadians bring a certain je ne sais quoi, un mystere — the good stuff.
The show will air on ABC in 2013 as a mid-season replacement. How to Live with Your Parents is written by Claudia Lonow — who doesn't really have a concrete track record of long-term success — but is directed by Julie Anne Robinson, who's worked on episodes of Weeds and Grey's Anatomy. It's a mixed bag, could sway either way.
Opinions? Will you be tuning in?
Photo courtesy of FayesVision/WENN.com
More on television
5 Great comedies returning this fall
Tears, tears and more tears on Bachelor Pad 3
Sherlock vs. Elementary
More From SheKnows Explorer