Exclusive interview with Sheila Kealey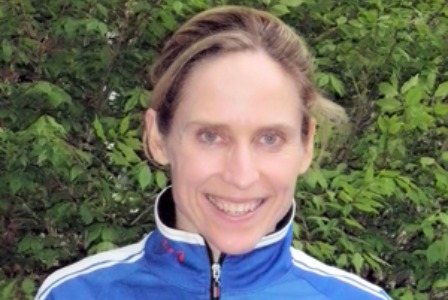 With the Summer Games quickly coming to a close, we couldn't help but wonder what a typical day looks like for a full-time athlete when training and competing.
So we asked multi-sport athlete Sheila Kealey.
A chat about life,
health and racing
Sheila Kealey let us into her world to share how she eats for health, what her favourite splurge is and what her race-day routine consists of.
Kealey is an avid runner, cyclist, skier and triathlete who enjoys promoting physical activity to youth through coaching. She is extremely passionate about endurance sports and healthy eating and wants to encourage health in others by sharing what it takes to be a successful athlete.
SheKnows: What does a normal training day look like?
"Hard weeks sometimes include more than 15 hours of training"
Sheila: A training day varies a lot, so it's probably easier to describe a typical week. The "key" workouts in my week usually include one distance workout (two to three hours) and two to three intensity workouts (intervals, time trials or sprints). In the summer these will either be running, roller skiing or cycling. Additionally, and depending on time, I like to include swimming workouts, two strength sessions, a yoga or Pilates class and technique and agility work. Hard weeks sometimes include more than 15 hours of training, but they're usually followed by "easy" weeks (six to eight hours) to allow my body to recover. Similarly, a hard day of training is usually followed by an easy day. This hard-easy concept is critical to improving fitness, provides variety and certainly helps work-life balance (you can schedule more things on easy weeks/easy days).
SheKnows: Do you have a pre-race ritual of any kind?
Sheila: My pre-race ritual typically involves a good warm-up that ensures that my body's ready to go as soon as the start gun fires. Usually this starts at an easy intensity and then includes some faster paced reps to get my heart and muscles working hard and primed for a fast start. My breakfast (usually three to four hours before start) is typically whole grain based (often oats), and until the start, I usually consume a sports drink and possibly a light, high-carbohydrate snack (half a CLIF bar or CLIF BLOK), since these digest well for me.
SheKnows: What do you eat while training?
Sheila: During training sessions or races, I typically rely on a sports drink and high-energy snacks like CLIF bars. I also make sure that I'm not going into a workout with an empty fuel tank! Eating before exercising can be tricky, but it's definitely worth finding a plan that works, since the food you eat before your workout has many benefits besides curbing hunger: It can help fuel your muscles and brain, top off your glycogen stores, increase motivation, decrease perceived exertion, boost your endurance and performance and set the stage for faster post-workout recovery. Carbohydrate-rich foods or beverages are an athlete's best bet before exercise, since they're an athlete's main source of energy, stored in muscles as glycogen or circulating in your bloodstream as glucose. Also, most carbohydrates tend to digest well and quickly, so you won't have as much in your gut while you're working out. Here are some foods that work for me two to three hours before a workout:
Peanut butter and banana sandwich on whole-grain bread
Fruit smoothie: Blend 1 cup non-fat milk, 1 banana, 1/2 cup frozen strawberries or blueberries (plus 1 tablespoon of protein powder — optional)
Whole-grain pita with hummus, vegetable juice
SheKnows: How do you change your diet when you're training versus your time off? Do you make it a point to stay healthy even during off-seasons, vacations, etc.?
Sheila: I eat pretty healthy year-round. It's actually become a habit, and I focus on healthy foods that I really enjoy. When I'm training a lot of hours, my diet likely includes more carbohydrates, and I do rely on the simple sugars in sports drinks and other products (e.g., CLIF bars and CLIF SHOTS or BLOKS) to fuel my workouts.
"Sugar gets a bad rap when it comes to healthy eating"
Sugar gets a bad rap when it comes to healthy eating, but during training, these sugars are just what the muscles need for optimum performance.
When I'm not training and during regular mealtimes, I try (not always successfully!) to limit my sugar intake, because consuming large amounts of sugar provides a lot of calories without nutrients and raises insulin levels. I'm involved in research looking at diet's influence on chronic disease, which has convinced me to enjoy plenty of health-promoting foods, so the foundation of my diet is vegetables, fruits, whole grains and legumes. These foods are naturally rich in protective compounds that will keep you healthy day to day, and in the long term can help prevent diseases. I believe that the same biological mechanisms by which diet helps promote long-term health can influence how you feel day to day, encourage a strong immune system, keep you lean and might even help you perform better.
What's your workout of choice when you aren't practicing your sport?
When I'm not practicing my sport, I try to do more yoga or Pilates. I really enjoy these classes and think they've made a huge difference in my overall flexibility, strength and body awareness.
SheKnows: How do you balance family time and training time?
Sheila: I'm fortunate that both my husband and son are active and involved in sport. I try to schedule early-morning workouts when I can so it doesn't take away from family time. I've got a general training plan but keep it pretty flexible to accommodate family, and try to incorporate family whenever it's possible. I'm lucky in that the activities I participate in (cross-country skiing, cycling, running, swimming) are all things we can do together as a family.
Next up: Learn more about Sheila Kealey's training and race preparation >>
More From SheKnows Explorer