Someone's A
Quitter For Twitter
Celebrities join and quit Twitter so often, we can't keep track. The latest quitter is Zayn Malik of One Direction, who deactivated his account to escape hateful comments.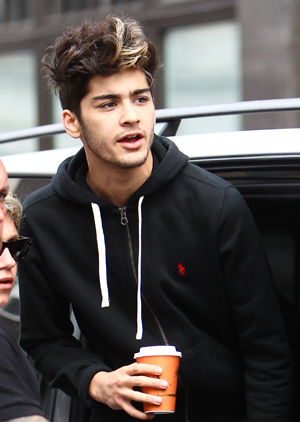 Whoa, Zayn! Are you sure you want to do this?
One Direction's Zayn Malik has been gradually cutting down on those adorable tweets on his Twitter account — much to the dismay of his five million followers — and now has deactivated his account altogether.
What gives?
The boy-bander did not leave his fans without an explanation and like a true gentleman explained why they must part ways.
"The reason i don't tweet as much as i use to, is because I'm sick of all the useless opinions and hate that i get daily goodbye twitter :) My fans that have something nice to say can tweet me on the one direction account , :) x," Malik tweeted before chucking the account.
Like all pop stars, Malik has been a constant target of aimless but spiteful messages (especially concerning his romantic relationships) as well as derogatory comments about his Pakistani heritage. But minutes after deleting the account, fellow Twitter-ers launched a "ComeBackZayn" mini-campaign, hoping to bring the star back to the micro-blogging website.
Only time will tell whether Malik can withstand the power and pull of Twitter; not many are strong enough to resist its charm.
Opinions?
Photo courtesy of WENN.com
More on One Direction
One Direction 2: The band's label sued over name
One Direction's Niall Horan apologizes for "c*** " comment
One Direction Montreal fans hospitalized
More From SheKnows Explorer