Plus Other Dirty Films Not For Your Parents
Kirsten Dunst has an adorable screen presence, but not one usually associated with humour. But in the new comedy Bachelorette, the actress takes her funny to a new level and does not want her dad to see it.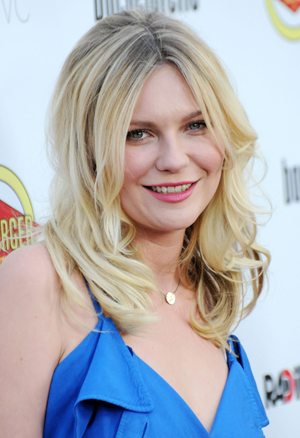 The phrase "listen to your parents" takes on a whole new level of significance when it may possibly thwart an excruciatingly humiliating situation.
Kirsten Dunst's new film Bachelorette is a little on the dirty, vulgar side, so much so that the actress has actually forbidden her father from ever seeing it.
"I didn't even tell him there was an L.A. premiere. And I was like, 'Yeah, Dad — don't even try getting it on iTunes, because you will not like this movie. You're a prude. You will hate it. I know you!'" Dunst revealed to E! News.
How bad can it possibly be? Well, we think the title of the film gives most of the plot away. It revolves around three women (Dunst, Isla Fisher and Lizzy Caplan) who are recruited as bridesmaids by a former schoolmate (Rebel Wilson) whom they used to bully. One thing leads to another, and it turns into a drunken, sexual mess. In one particular scene, Dunst's character has sex with a gentleman in the bathroom of a strip club… Yeah, maybe Dad should steer clear of this movie, for his own good.
But while we're on this wave, which film would you never see with your parents? Here's our roundup.
Sex and the City (the film)
This movie may seem to be in good fun for a girls' night out with Mama, until you meet Samantha's sultry neighbour (and man of fancy) with the stamina of a bunny and a bottomless supply of one-night stands (all vividly shared with the viewer). That exposing shower scene (you know which one) will leave you shuddering with discomfort and hoping for a self-combusted black hole to inhale the TV screen.
American Pie
The series of films was a delight to watch with friends, but it may harbour a bit of awkwardness with parents. The inevitable wonder of whether one's child participated in such vulgarities will surely leave your parents with a sweaty brow. From the iconic pie scene to Alyson Hannigan's band camp confession…  Just think of it this way: Would you watch it with your children?
The 40-Year-Old Virgin
The film that started a chain of filthy guy flicks is probably not your best bet for a night in with the parents. Odd confessions, waxing scenes, transvestite prostitutes and plain old potty-mouth smut are what make this movie amazing, but they're also the reasons your parents must remain ignorant of its existence… Right?
Share your thoughts. Godspeed!
Photo courtesy of Brian To/WENN.com
More on movies
Hunger Games news: Wiress and Finnick cast!
Best Tony Scott movies
Shia LaBeouf does not fake sex
More From SheKnows Explorer