Comedian Officially
A Hollywood Star
Everybody's inducted into the Hollywood Walk of Fame; it was only a matter of time… Ellen DeGeneres was the well-deserved recipient of the 2,477th star yesterday.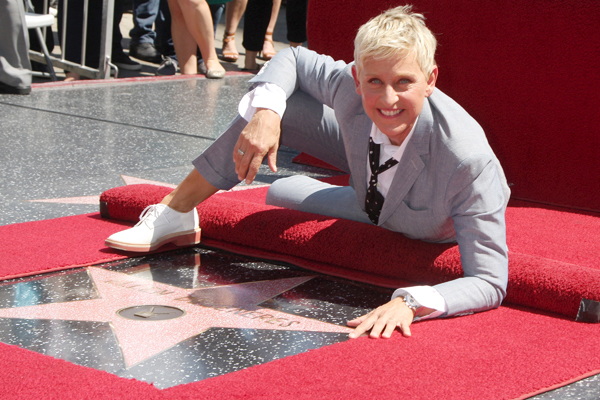 If you think about it, it's a little odd that three dogs, Judge Judy and Scarlett Johansson all received their Hollywood Walk of Fame stars before the hilarious Ellen DeGeneres, but 'tis true.
But she will wait no more! The comedian and TV host was honoured with the 2,477th star on the Hollywood Walk of Fame yesterday, with Portia de Rossi, Ryan Seacrest and Jimmy Kimmel in attendance.
DeGeneres, as usual, wanted to share the moment with her fans (who filled the streets to catch a glimpse of the ceremony) and extended an invite via Twitter:
"So excited to see fans here at the W Hollywood to see me get my star on the Walk of Fame! Come down if you can!"
But what kind of comedian would Ellen be if she didn't crack any jokes? Luckily the required speech provided a perfect opportunity.
"It is amazing. I spent my entire career trying to conduct myself in a certain way, making sure no one walks all over me, only to get to a point where people are going to walk all over me. It means so much to me that everyone showed up."
We think this is well deserved; not only for DeGeneres' comedic and hosting skills, but also for her equal rights advocacy and charity efforts. Well done and congratulations, Ellen!
Opinions?
Photo courtesy of Nikki Nelson / WENN.com
More on Ellen DeGeneres
Ellen DeGeneres fights back against One Million Moms
Torontonian dance fanatic featured on Ellen
New York homeless teen to receive $50K scholarship from Ellen
More From SheKnows Explorer