Super Outdoor Adventure Food
Who says camping and hiking snacks have to be bland and boring? Not us. We have a few recipes for delicious high-energy snacks that you must try on your next hiking and camping adventure. These tasty snacks are easy to bake and won't be too messy while you are out enjoying the wilderness. So for your next outing, pack plenty of water and these nutrient-dense treats -- the only problem you'll have is not packing enough!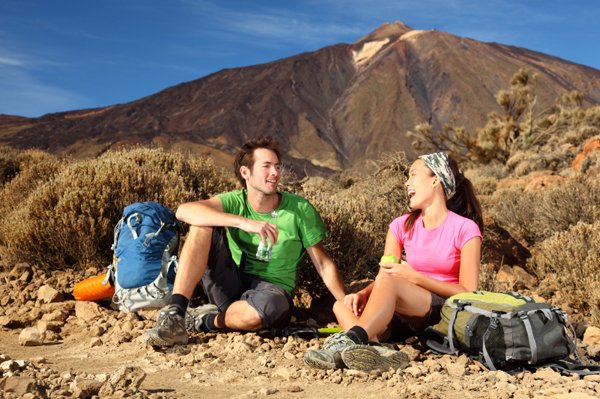 EARLY BIRD BREAKFAST COOKIES
Makes about 1 dozen breakfast cookies
No time for a sit-down breakfast? Grab one of these moist, chewy, protein-packed "cookies" and hit the trail running. These cookies are great for any early morning on-the-go.
Ingredients:
1 cup rolled oats
1/2 cup whole-wheat flour
1/4 cup non-fat dry milk powder
1 tsp ground cinnamon
1/2 tsp ground ginger
1/4 tsp baking soda
1/2 cup mashed banana (about 1 large banana)
1/2 cup chunky peanut butter, natural or regular
1/2 cup honey
1 tsp pure vanilla extract
1 cup dried cherries, roughly chopped
1/4 cup sunflower seeds (hulled)
Directions:
Preheat oven to 350 degrees F. Spray a cookie sheet with non-stick spray or line with parchment paper.
In a medium-sized mixing bowl, whisk together oats, flour, milk powder, spices and baking soda and set aside.
In a large mixing bowl, stir together mashed banana, peanut butter, honey and extract. Combine wet and dry ingredients until fully incorporated then stir in cherries and sunflower seeds.
Using a medium-sized ice cream scoop, scoop dough out onto prepared baking sheet, leaving about three inches between mounds. Dip a small offset spatula into cold water and flatten each dough mound into a cookie about 1/2-inch thick.
Bake for about 15 minutes or until cookies are golden brown. Let sit on baking sheet for one minute, then move to cooling racks until completely cool. Store in a sealed plastic container for up to three days or freeze for up to two months.
CHERRY ALMOND GRANOLA BARS
Makes about 20 granola bars
If you are planning a hike, these Cherry Almond Granola Bars are a great choice. These bars are substantial, healthy and perfect for one-handed noshing -- they won't melt in your hand or your backpack.
Ingredients:
2 cups rolled oats
1/3 cup packed light brown sugar
1/2 cup whole wheat flour
1/2 cup all-purpose flour
1/4 cup wheat germ
1/4 tsp salt
1/2 tsp ground cinnamon
1 cup dried cherries, roughly chopped
1/2 cup chopped or slivered almonds
1/2 cup honey
1/2 cup vegetable oil
1 egg, lightly beaten
1 tsp pure vanilla extract
1/2 tsp almond extract
Directions:
Preheat oven to 350 degrees F. Lay a sheet of aluminum foil inside a 9 x 13-inch glass baking dish and mold it to fit the dish. Spray foil with non-stick cooking spray.
Combine oats, brown sugar, flours, wheat germ, salt and cinnamon in a large mixing bowl. Add cherries and almonds and toss to combine.
In a medium-sized mixing bowl, stir together honey, oil, egg and extracts. Pour wet ingredients over dry ingredients and mix until all the dry ingredients are moistened.
Spoon granola mix into baking dish and spread to cover bottom of pan. Using your buttered hand or a spatula, press into an even layer.
Bake for 25 to 30 minutes or until the edges begin to brown. Let cool in pan. When cool, carefully lift foil out and transfer baked granola sheet to a cutting board.
Use a large, sharp knife to cut into rectangular bars. Store in an airtight container or wrap each bar individually in plastic wrap and freeze.
Next: S'mores granola munch mix >>
More From SheKnows Explorer