Flavoured Vodkas To Make At Home
Vodka infusions are a trendy way to enjoy something new, so be creative with your vodka and let your inner mixologist shine through.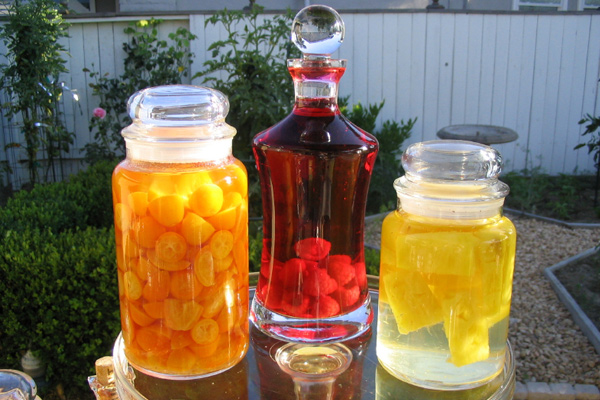 You can find flavoured vodkas on the market, but for a better depth of flavour and more originality making a vodka infusion at home is a great way to go. Infusions are easy — they don't require a lot of prep time and are usually ready to enjoy within a week of preparation. While you can make an infused spirit out of almost any liquor, vodka lends itself well to the process — plain vodka usually has a a fairly neutral taste, so it doesn't clash with added flavours. This allows for greater possiblities and more creativity when making your infusion.
Getting started
Properly clean a glass jar with a tight fitting lid. It's not necessary to sterilize the jar, but make sure it's completely clean. The size of the jar will determine the quantity of the infusion you make. A litre-size mason jar works well to infuse a 750 ml bottle of vodka.
Ingredients
Once you have your bottle of vodka, the rest is up to you! Keep in mind that the quality of vodka won't change when it's infused, so use a brand that you would normally drink on its own. Then choose your flavour boosters. Just let your imagination be your guide. Popular choices include citrus fruit, berries, mango, pineapple, cucumber, herbs such as basil and thyme, chili peppers and vanilla.
What's next?
Wash and prep your ingredients. Berries should be washed but left whole, while most other fruit and veggies should be washed and sliced or cut into chunks. Vanilla should be washed and halved lengthwise, and herbs can be washed and then thrown in whole. Simply add your prepared ingredients to the mason jar and cover with vodka. Experiment to determine how much of your flavour ingredient to add, as this depends on your own personal taste. The more of the ingredient, the stronger the flavour. Seal the jar and place it in a cool dark place. Take a minute to shake it a few times a day; let the flavours steep for three to five days, or until the desired flavour is reached. (Stronger flavours take less time to infuse while milder ones take longer.) Taste your infusion often to determine when it's ready to enjoy. When you think it's ready, strain if necessary and pour into a decorative sealable bottle, if desired.
A few ideas to get you started
Using a 750 ml bottle of vodka and the above instructions, try making these infusions.
Triple berry: Use a mixture of raspberries, blackberries and blueberries.
Pomegranate explosion: Add the seeds of two pomegranates.
Zesty citrus: Use a combination of two whole lemon skins and two whole lime skins, sliced, with pith removed.
Spa vodka: Use half a long English cucumber muddled with its skin.
Red hot vodka: Infuse with a handful of whole dried red chilies.
More drink ideas
Beer tasting: Winter beers you have to try
Bourbon cocktails to warm your spirit
Sexy Valentines's Day cocktails
More From SheKnows Explorer