Healthy Kids' Snacks With A Purpose
Whether your kids are headed off to soccer practice, sitting down to tackle a pile of homework, starving from a long afternoon or feeling hungry at bedtime, here's how to choose the right snack for the right situation.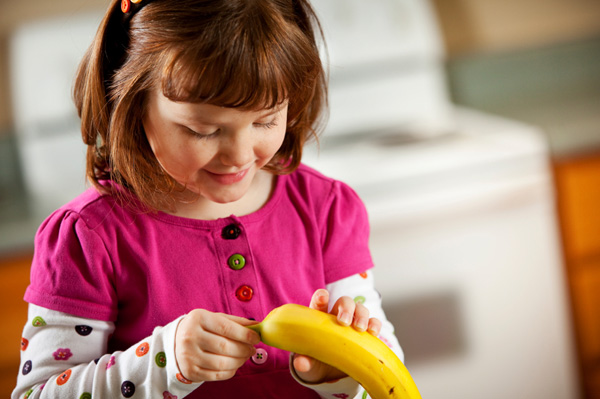 Kids and snacks go hand in hand. As a parent, you can pair the right snack with the right activity and teach your kids healthy eating habits.
The American Academy of Pediatrics recognizes the importance of choosing healthy snacks for kids: "Snacks make up an important part of childhood nutrition. Children must eat frequently. With their small stomachs, they cannot eat enough at meals alone for their high-energy needs. Three meals and 2 or 3 healthy snacks a day help children to meet their daily nutrition needs."
Here are the snacking scenarios:
Mid-morning munchies
For children, the hours between breakfast and lunch can feel like an eternity. Sending them off with mid-morning snack that is low in both sugar and fat will keep them feeling great until lunchtime.
String cheese and an apple
Yogurt and a banana
Carrot sticks and low-fat cottage cheese
Whole wheat pita triangles and hummus
Sports snacks
Before kids head out for an afternoon of sports, they should fuel up with low-fat, high carbohydrate snacks. The carbs will provide them with sustained energy and lower-fat snacks won't weigh them down.
Whole-grain crackers and cheese
Applesauce with graham crackers
Watermelon and whole-grain pretzels
Whole-grain bagel and low-sugar jam
Homework helpers
After a long day at school, when kids sit down to tackle homework, they need foods that will help them to focus. The best snack choices are high in fibre, but low in fat and sugar. The fibre will stick with them while they're doing their work. Choosing snacks that are low in sugar will prevent a crash midway through.
Apples with peanut butter
Snack mix and a banana
Smoothie made with low-fat yogurt and frozen fruit (throw in some flaxseed for an extra boost) 
Strawberries and a piece of whole-grain toast
Bedtime bites
Many kids need one last snack before they head off to bed. To help them sleep well, avoid heavy snacks and offer foods (like dairy) with tryptophan, which helps to release serotonin, a sleep-inducing hormone. Pair tryptophan with complex carbs to give kids a snack that offers some extra help for falling asleep.
Whole-grain cereal with milk
Milk and a small whole-grain cookie
Yogurt sprinkled with granola
Oatmeal with milk
By choosing healthy snacks with a purpose, you'll be teaching your children that food is fuel, and in time, they'll learn how to make healthy choices for themselves.
More on kids and healthy eating
Ways to keep kids full longer
Healthy snack recipes for kids
Real moms share: Simple snacks my kids love
More From SheKnows Explorer