Delicious Low-Cal
Meals For Midday
Eating well when you're away from home — as is often the case at lunchtime — can be incredibly challenging. Read on to to discover three healthy, low-calorie recipes that will fill you up and give your body important nutrients to get you through the rest of your hard day.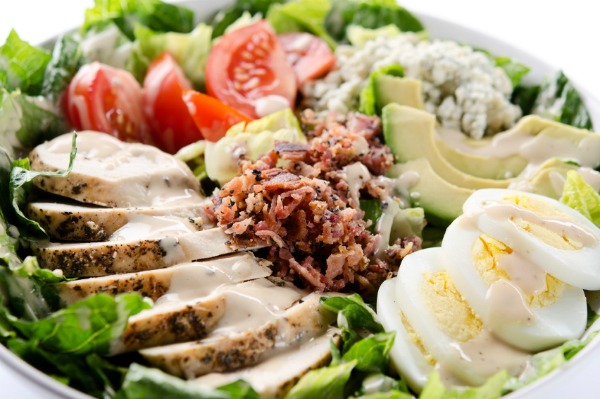 Classic Cobb salad
Serving size 1
A Cobb salad is both hearty and healthy. And this one is sure to fill you up — guilt-free!
Ingredients:
2 cups packed mixed greens
5–6 cherry tomatoes, halved
1 hard-boiled egg, sliced
1 tablespoon bacon bits
1/3 cup cooked chicken breast, sliced or shredded
1/4 of an avocado, cubed
2 tablespoons blue cheese
1 tablespoon chives, chopped
1-1/2 tablespoons olive oil
1-1/2 tablespoons red wine vinegar
1/2 tablespoon Dijon mustard
1 teaspoon brown sugar
Salt and pepper, to taste
Directions:
Combine the mixed greens, cherry tomatoes, egg, bacon bits, chicken, avocado, blue cheese and chives in a medium-sized bowl. Mix well.
In a sealable Tupperware container, combine the oil, vinegar, mustard, sugar, salt and pepper. Shake vigorously.
Slowly pour the dressing over salad, stirring constantly, until the desired amount of dressing is added.
Note: If you'll be away from home for work, bring the dressing and salad separately, and combine them when ready to eat. This will keep the leaves from getting soggy.
Ham and Swiss on rye
Serving size 1
This delicious sandwich is easy to put together and covers all the important food groups so your body has the strength it needs to get through the day.
Ingredients:
2 slices rye bread
2–3 slices Swiss cheese
3–4 slices ham
2 tomato slices
1 lettuce leaf
1 pickle, sliced lengthwise
1/2 tablespoon mustard
Directions:
Spread the mustard on the insides of the bread.
Lay the cheese, ham, tomatoes, lettuce and pickles on one piece of bread. Cover with the other slice of bread.
Warm the sandwich in the oven, microwave or grill if desired, or enjoy it cold.
Spicy turkey wrap
Serving size 1
Sometimes what you really need is a little bit of a kick to get you refocused halfway through your day. Fortunately this spicy wrap does just that!
Ingredients:
1 large whole wheat wrap
1/2 cup cooked turkey, sliced or shredded
2/3 cup packed mixed greens
1/4 cup tomato, diced
1 green onion, sliced
1/4 of an avocado, cubed
1/4 cup canned black beans, rinsed and drained
3 tablespoons Greek yogourt
1/2 a lime, juiced
1 pinch crushed red pepper (more or less, to taste)
Salt and pepper, to taste
Directions:
In a small bowl, combine the Greek yogourt, lime juice, red pepper flakes, salt and pepper. Mix well.
Lay out the wrap flat, and spread the sour cream mixture in an even line down the middle.
Place the turkey, greens, tomato, onion, avocado and beans on top of the sour cream mixture, leaving an inch or two at either end for rolling.
Fold these two ends over the ingredients, and roll the remaining opposing sides together. Enjoy immediately or place in plastic wrap for later.
more healthy lunch recipes
Egg salad recipes
Soup it up this spring
Tabbouleh: A very healthy salad
More From SheKnows Explorer