Good For You
In Every Way!
Granola is often touted as a healthy way to start your day. But many recipes are loaded with oils and sugars, and store-bought varieties are covered in artificial flavours and additives. Fortunately this breakfast granola is both healthy and delicious.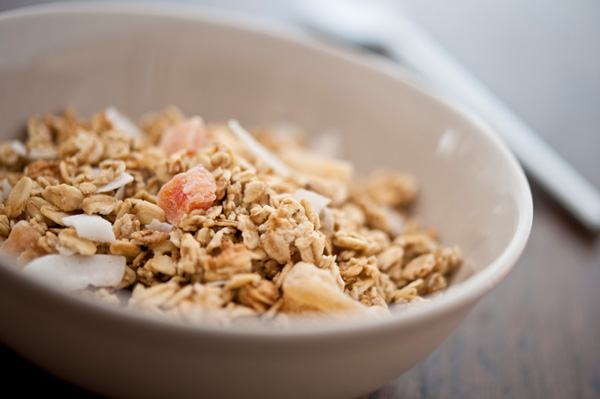 Healthy granola
Makes 5 cups
Tired of seeing granola recipes that claim to be "healthy" but then ask you to mix in a cup of sugar or oil? Your frustration is totally understandable! Fortunately this recipe is low in artificial sugars and oils, so you can feel good about starting your day with granola. Enjoy in yogourt, as a topping for cereal or as an easy grab-and-go snack.
Ingredients:
2 cups rolled oats
1 cup Kamut
1/2 cup chopped walnuts
1/2 cup slivered almonds
1/4 cup sunflower seeds
1/3 cup dried cranberries
1/4 cup chopped dried apricots
2 tablespoons chia seeds
3 tablespoons sunflower oil
3 tablespoons maple syrup
1/2 teaspoon salt
Directions:
Preheat oven to 350 degrees F.
In a large bowl, combine oats, Kamut, walnuts, almonds, sunflower seeds, cranberries, apricots and chia seeds. Add oil, maple syrup and salt, and combine thoroughly.
Pour the mixture on a large, lightly greased baking tray. Spread it out evenly.
Bake the granola in the oven for 20–25 minutes, mixing every 8–10 minutes, as edges will crisp more quickly than the centre.
Remove it from the oven, and let it cool. Once cooled, the granola will keep well for two to three weeks in an airtight container.
more healthy breakfast ideas
5 Super food recipes for breakfast
Quick, healthy breakfasts for the woman on the go
3 Delicious under-400-calorie breakfasts
More From SheKnows Explorer