French fry ideas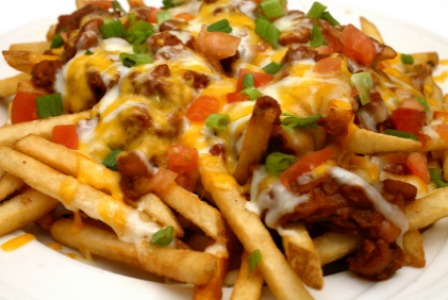 With a nod to the growing trend of food trucks that are serving up everything from standard fare to elaborate desserts, here are some delicious french fry ideas that will help bring the food truck flavour home.
Food-truck-
inspired french fries
Adding just a few ingredients to a simple plate of french fries can elevate it to something new and exciting.
Consider poutine, a dish of fries with gravy and cheese curds that has become known internationally as a Canadian favourite. With the recent onslaught of food trucks making the rounds in almost every major metropolitan area, poutine seems to have been just the beginning of what can be done to basic fare to make it street food worthy! Read on for ideas to help you create a street food french fry experience at home.
Potato fries
Serving size 4
Pass on the oven-baked fries. To get the best flavour and texture, you need to start with a plate of crispy, deep-fried french fry goodness!
Ingredients:
4 large, scrubbed, russet potatoes. Peeling off the skin is a personal choice, but leaving it on adds flavour, nutrition and visual interest to the fries.
2–3 litres peanut oil. Canola or vegetable oil will also work.
Sea salt to taste.
Directions:
Cut the potatoes into oval slices, then into fry-shaped sticks. Immerse them in a bowl of cold water for at least 30 minutes before cooking. Blot them dry before frying.
Heat the oil in a large pot. For the first frying, the oil should reach a temperature of 325 degrees F.
Divide the potatoes into three batches, and cook one batch at a time for about 3 minutes, until they are soft but not browned.
Remove and drain them on paper towels.
Increase the heat until the oil is about 375 degrees F. Re-cook the fries until they are crispy and golden brown. As an option, use a deep fryer, and follow the manufacturer's directions.
Drain on paper towels and salt as desired.
Now for the add-ons
Choosing the seasonings, toppings and dipping sauces might just be the best part of your homemade fry creation! Don't be shy; get creative with the flavours you love! Here are some suggestions to get you started:
Toss with freshly grated parmigiano reggiano and diced roasted garlic. Garnish with fresh Italian parsley.
Drizzle on chili con queso, then add chopped cilantro, sliced jalapenos and pico de gallo salsa.
Toss fries lightly with chili powder and garlic salt (omit salt after frying). Add chili (meat or bean) and a layer of grated aged cheddar or pepper jack cheese. Top with diced tomatoes and black olives. Serve with a side of sour cream.
Sprinkle with blue cheese crumbles, bacon bits and finely sliced green onions. Drizzle with blue cheese dressing and Louisiana-style hot sauce.
Top with pulled pork and caramelized onions, then drizzle with hickory-flavoured BBQ sauce.
MORE FAST FOOD IDEAS
The patio chef: Gourmet hot dogs
Panini: The Italian sandwich
Chicken: No more nuggets
More From SheKnows Explorer