Straight from the vine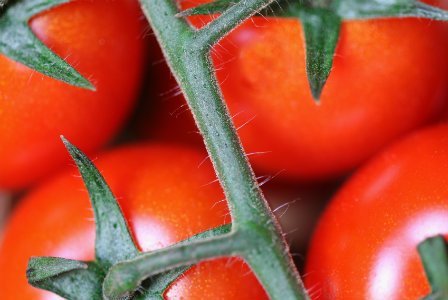 Whether you consider it a fruit or a vegetable, there's no denying how delicious a tomato is when eaten straight out of your own backyard! Read on for some ideas on how to incorporate that fresh flavour into your next meal.
Garden-fresh
tomato recipes
One of the best things about summer is the abundance of fresh fruits and vegetables, as farmers and backyard gardeners alike take to harvesting the fruits of their labour! Gardens are bursting with flavourful veggies, and vines are literally drooping with clusters with sumptuous red tomatoes. So what can you do with your harvest of juicy ripe tomatoes? Here are a few suggestions.
Creamy bruschetta sauce
Serving size 4
Ingredients:
6 large ripe tomatoes, diced
3 garlic cloves, finely minced
1/2 cup fresh basil leaves, coarsely chopped
2 tablespoons extra-virgin olive oil
Pinch of fresh ground pepper
Kosher salt to taste
1 small wheel (200–250 grams) of brie, rind removed, cut into small cubes
Freshly grated parmesan
Directions:
Add the first six ingredients to a glass bowl and mix. Cover the bowl and let the mixture sit at room temperature for 1–2 hours.
Add the cheese cubes, and stir only a few times to mix, then cover the bowl again and let the mixture sit an additional hour or until the cheese has softened. Do not mix again.
Serve over your favourite hot cooked pasta, and top with grated parmesan.
As an option, serve it on grilled French or Italian bread.
Fresh puttanesca sauce
Serving size 4
Ingredients:
4 large tomatoes, diced
1/4 cup extra-virgin olive oil
3 garlic cloves, finely minced
1/2 cup pitted Kalamata olives, coarsely chopped
1/4 cup drained capers
1/4 to 1/2 teaspoon red pepper flakes
1/4 cup finely chopped basil
1/2 a can (170 grams) of tuna, drained and flaked
Freshly grated parmesan
Directions:
Add all ingredients except for the tuna to a glass bowl. Mix well, then cover and let the mixture sit for 1–2 hours at room temperature to blend the flavours.
Stir in the flaked tuna and serve over a hot cooked pasta such as rotini or penne. Top generously with the parmesan.
As an option, combine the pasta and sauce, then chill. Serve it cold as a pasta salad.
Tomato and roasted corn salad
Serving size 4
Ingredients:
4 large tomatoes, cored, seeded and peeled, then diced
4 ears of grilled corn, kernels removed from the cob when cool
1 ripe avocado, diced into 1/2-inch cubes
1/4 cup coarsely chopped cilantro
1 lime
1/4 cup olive oil
1 teaspoon cumin
1/4 teaspoon kosher salt
1/4 teaspoon freshly ground pepper
Directions:
Add the diced tomatoes, roasted corn kernels, diced avocado and the cilantro to a medium bowl.
In a separate bowl or shaker, mix together the zest from half the lime, the juice from the whole lime, the olive oil, cumin, salt and pepper. Whisk or shake until combined.
Pour the dressing over the tomato-corn mixture just to coat, and mix well. Serve chilled.
More vegetable recipes
Grilled mango and sweet potato salad recipe
Grilled veggies: Recipe ideas
Delicious ways to eat more aparagus
More From SheKnows Explorer