Eating Healthy Can Include This Sweet Treat
Did your Valentine give you a heart-shaped box of chocolates? Your box of treats may do your health some good. It's true! So you don't have to feel guilty about indulging — in moderation.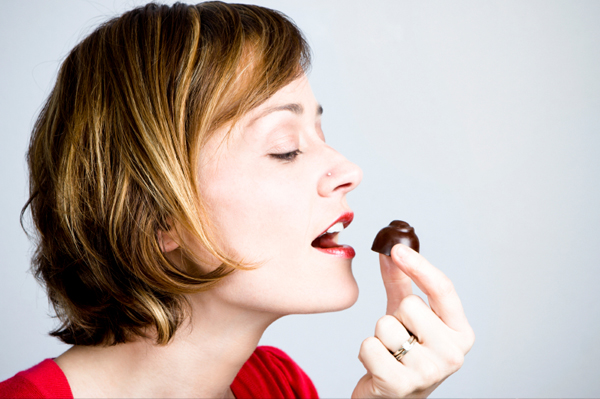 It may sound too good to be true, but chocolate indeed has been shown to offer health benefits. Yes, chocoholics, you have reason to rejoice!
Chocolate is good for your heart
One study found that high consumption of chocolate resulted in a 37 per cent reduction in cardiovascular disease and a 20 per cent reduction in stroke, when compared to low chocolate consumption. Other research has shown chocolate to help reduce blood pressure, improve blood flow and reduce plaque accumulation in the arteries.
Chocolate is high in antioxidants
Chocolate is high in flavonols, a type of antioxidant, which have been shown to be beneficial in helping slow aging and prevent cancer by preventing damage caused by free radicals. Note that these flavonols are also found in other foods such as red wine, cranberries, apples and tea.
Eating chocolate may help satisfy your sweet craving
Depriving yourself entirely of something you love — such as sweets — may cause even greater craving, possibly leading you to binge on it more if you cave. Opt for a small serving (one square of dark chocolate a day, for example) and this will help satisfy you while enabling you to stick to your diet.
Just remember to enjoy dark chocolate in moderation
Of course, none of these findings mean you can devour an entire box or that chocolate should be your method of improving your heart health. Keep in mind the significant sugar and fat content in most chocolate — it's high quality dark chocolate that most health-benefit studies focused on. A quality dark chocolate will be less processed than other types, so it will retain more of the flavonols that make chocolate good for you. This rules out the candy bar you buy at the convenience store, boxed chocolates with all those nougat, nut, caramel and just plain sugary fillings, chocolate cake, chocolate muffins and the like.
When shopping for a chocolate, look for a dark chocolate that in its ingredients lists cocoa solids or cocoa mass first (with sugar lower on the list). Also, look to the percentage of cocoa—aim for 70 percent or higher.
More food articles that may interest you
Creative ways to use chocolate for a romantic night
Chocolate therapy: new healthier chocolates
Why chocolate makes a great menu addition