Here's The 411 On Boot Camp Fitness Classes
If the spring weather is inspiring you to kick-start a new exercise regimen, one workout you may be considering is a fitness boot camp. Here's what you can expect from a camp so you can decide if it's the right workout for you.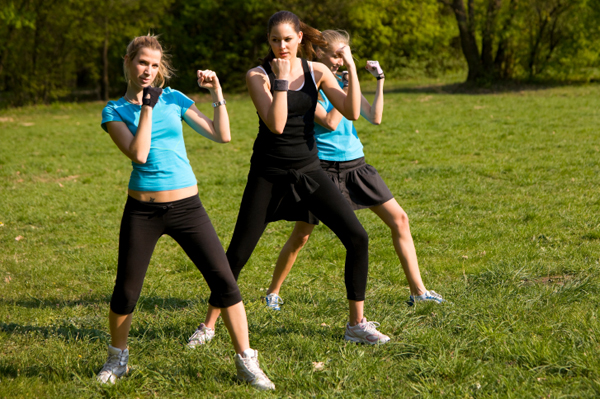 In the past few years, more and more fitness boot camps have been popping up all over (held outdoors during the summertime and indoors during the cold winter months). But if you've been wondering what type of workout you can expect from one before signing up for a camp, here's what a typical boot camp will entail.
Full-body workout
Often offered twice a week (with each class typically lasting an hour), you'll get a full-body workout that will include cardio, strength training and flexibility. The exercises usually don't call for much equipment (which makes it easier, since you may be having your camp in a public park, for example). Cardio may entail running, jumping jacks or skipping. Strength training will often include using your body weight as resistance, so think push-ups, plank, tricep dips and squats. Working on flexibility is incorporated into the cool-down period with common static stretches so that your muscles won't ache as much and to help prevent injury in the future.
The actual exercises are often ones you will be familiar with, so technically, you could head to the park and do the same workout on your own. But most of us need that extra push (whether the push is from having paid for classes or having someone there to outline what to do when).
Drill instructors
The exercises are often run as drills, giving it that army boot camp feel. How aggressive your instructor is will vary from camp to camp and from instructor to instructor. You may find you benefit most from one who barks and gets in your face about completing all your reps, or you may find this style makes you not want to try at all. Whichever your preference, don't give up if you try one camp and it's not to your liking. Another company's approach may be more in tune with your workout and motivational style preference.
Given that you're usually paying for a set session of one or two months, it's best if you can be sure your schedule for that time allows you to commit to those workouts. Some camps may allow you to make up classes, but others do not, so check the boot camp's policy when you register.
More fitness tips
Tighten those abs: Four exercises for your core
5 Ways to squeeze in fitness
What to eat after a workout