Swim, Boat Or Surf!
When it comes to summer exercise, there are so many more options than just jogging and hiking. Water sports are a fun and unique way to enjoy staying fit this season. Read on to discover some great water activities for you to try.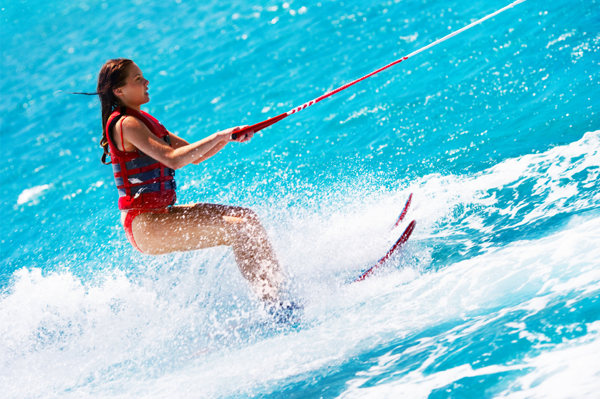 Water skiing
Water skiing involves a person on skis, holding on to a bar attached by a rope to the back of a well-powered boat. The speed of the boat pulls the skier across the surface of the water, where the skis glide smoothly along. More experienced skiers are able to move in and out of the wake created by the boat and can even perform tricks, such as flips, turns and balancing acts. Whether you choose to attempt such elaborate stunts or to simply focus on staying upright, water skiing is a full-body workout. Getting up on the skis can take a little practice, but after a few splashes, you'll be gliding around the lake in no time. And boy, will your arms, legs and core feel it the next day!
Kayaking
Kayaking involves a long, narrow boat and a paddle with a blade on either end. The kayaker sits in the center of the slender watercraft and alternates the paddle from side to side to propel the boat forward. When the kayak has a closed top and a skirt is used to block any water from entering, rolls and other tricks can be performed. Kayaking is a great arm workout and a fabulous way to travel to new places around a lake.
Windsurfing
Don't have access to an area with the proper waves for surfing? Then windsurfing might be your next best bet. It consists of a board attached to a sail, which is held up and manoeuvred by the individual riding it. By turning the sail in different directions and leaning with the body, the surfer takes the board in whichever direction is desired. The activity requires a great deal of upper body strength and good balance. If those are skills you want to develop, definitely give windsurfing a try.
Snorkelling
Snorkelling is the perfect activity for the adventurer or anyone who is curious about what goes on under the water's surface. Armed with a pair of flippers for better mobility, a mask for easy viewing and a snorkel for constant air supply, the snorkeller moves along the surface of the water, inspecting anything and everything that catches his or her eye. You'll be having so much fun, you'll forget you've been swimming for hours.
Water polo
Water polo is a wonderful way to get some friends together and enjoy your time in the water. Similar to many land sports, the goal of water polo is to throw a ball through a net to score points on the other team. Although the actual game has many official rules, it can easily be played and enjoyed in whatever way is most suitable to the swimming abilities of the group. To make the game a little easier, play it closer to shore, where people are able to walk, and use a sizable ball. Or to challenge yourselves, go in a deeper area, where you are required to tread water, and swim fiercely to score on the other team. How you play is entirely up to you!
more on summer fitness
5 Exercise ideas to celebrate summer
How to not overheat during outdoor summer workouts
Find the right running route for you