Lifesaving competitions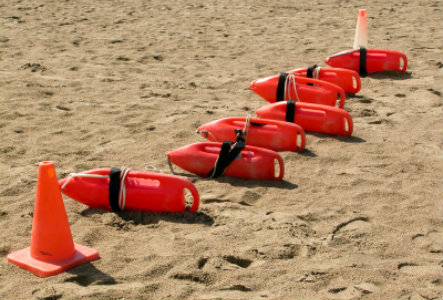 Think a lifeguard spends the majority of his or her day standing idly by the pool? Not necessarily. The exciting sport of competitive lifesaving makes it clear they are capable of a whole lot more than just "guarding."
Lifeguards show
what they're capable of
What is competitive lifesaving?
Competitive lifesaving is unique in that it is the only sport where the skills involved are developed primarily for humanitarian purposes and then applied to competition. In Canada, the governing body is The Lifesaving Society, which is reconized by the International Life Saving Federation (ILS). The organizations focus on drowning prevention, and the sport of lifesaving provides an opportunity for lifeguards to continue developing their skills. The sport encourages its members to come together, learn from one another and challenge themselves to improve and perform.
How did it all get started?
The first sponsored lifesaving events took place in Canada as early as the 1930s, and the first official Canadian Lifeguard Championship was held in 1977. Since then, the sport has been growing in popularity and has even developed a Team Canada, which represents the country internationally.
What kinds of events does it involve?
Typically members compete as a team, and points are collected to determine the winning group. Individuals compete in a variety of events that test such skills as speed, strength and ability to perform in simulated scenarios. For instance, competitiors may have to swim freestyle to a submerged manikin, dive, bring the manikin to the surface and contnue to the edge of the pool. Or in an obstacle course, competitiors must swim as quickly as possible for a predetermined length and pass under an immersed obstruction.
What are the benefits?
Competition provides both a training opportunity for current lifeguards as well as a chance to raise public awareness of drowning and water-related injuries. Because competitors take part as a team, an element of camaraderie develops. The sport itself requires being extremely alert and physically fit. Some events also require a certain amount of assessing of the scenario at hand, so athletes have to constantly be on their toes.
Lifesaving for youth
All a person needs to get involved in the sport is a Bronze Medallion certification, which can be achieved as of the age of 13 or following a Bronze Star certification. Junior Lifeguard Games take place regionally, nationally and internationally, which allows for some great opportunities. The sport is excellent for physical fitness, life skills and team building.
Getting involved
If you or someone you know is interested in getting involved in the sport, check out the Lifesaving Society of Canada for more information.
more healthy activities
How to decide if you should train for a marathon
5 Fun styles of dance for you to try
5 Exercise ideas to celebrate summer