More than a stomache ache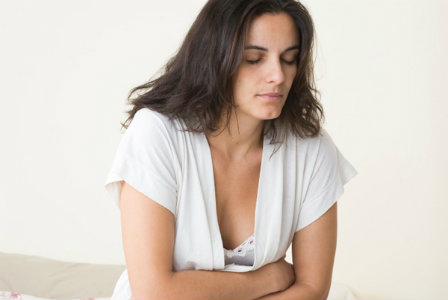 With outbreaks of infection popping up in hospitals all over, many people are getting nervous. But what is C. difficile really all about, and how do you know if you or a loved one is at risk?
When tummy troubles are something more
Understanding C. difficile
Clostridium difficile — more commonly known as C. difficile — is a bacterium that causes mild to severe diarrhea as well as intestinal conditions such as inflammation of the colon. Individuals become infected by touching a surface, item or another person that has come in contact with fecal matter and then touching their own mouths or noses. The chances of getting a C. difficile infection increase when a person is on antibiotics, as such medications can alter the levels of good bacteria in the colon and intestines, making it easier for C. difficile to thrive and cause infection.
Recognizing C. difficile
Determining for certain whether you've been infected with C. difficile can be challenging, because many of the symptoms are similar to those caused by other viruses and bacteria. Symptoms include fever, loss of appetite, nausea, abdominal pain or tenderness and watery diarrhea. The diahrrea is often the most identifiable sign, because it will take place at least three times a day and last for two or more days. If you are experiencing such symptoms, you'd be wise to seek medical attention.
Who's at risk?
It is rare for the bacterium to affect healthy individuals. It is more drawn to the elderly or individuals who are already ill and being treated with medication. Those living in health care facilities such as old age homes or hospitals are also at an increased risk if proper infection control and prevention methods are not in place or being practiced.
How serious is it?
The Public Health Agency of Canada states that most cases of C. difficile are relatively minor and clear up on their own. But in more serious cases, medication, treatment and occasionally surgery may become necessary. If the symptoms persist for an extended period of time, they can lead to dehydration, bowel perforation and sepsis, which can eventually cause death.
Preventing C. difficile infection
Because C. difficile can be transferred by touch, Health Canada recommends washing your hands with soap and warm water for 20 seconds. If you are visiting a health facility, it is also wise to use the hand sanitizer available. And because antibiotics can play a role in its development, be sure you take them only when absolutely necessary and complete the full course even if the symptoms of your issue go away. If you are on antibiotics or spending time in a health care facility, make sure to seek medical attention if you notice any signs of C. difficile to catch it early. Early detection is the best way to stop the bacterium in its tracks.
More health tips
Preventing osteoporosis: What can you do?
Important pre-travel immunizations
Why Canadians need more vitamin D