Helping him get healthy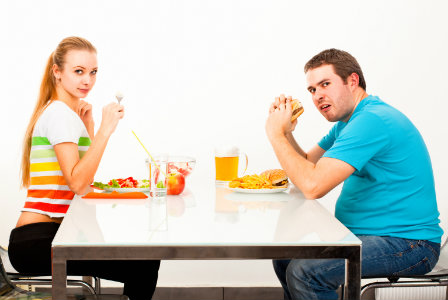 Of course you love your husband in sickness and in health, and it's natural that you want him to remain as healthy as he can be for as long as possible. If you're worried he may be putting on more weight than is advisable, it may be time to take action.
Does he need to
focus on his health?
Here are some terrific tips and tricks on how to encourage your partner to get healthy without hurting his feelings.
Approach the issue calmly
If you've noticed your partner putting on weight for some time now, it's understandable that the issue is constantly on your mind. And unfortunately, that might cause you to bring it up at an inopportune moment or in a less-than-optimal way. A better idea is to plan out how you would like to broach the subject and to prepare to do it in a calm and well-thought-out way. Express your concern for his well-being and that you're there to help however you can.
Remove the risks
A good place to start the process is by making your household a healthier one — one where your partner is at less risk of eating poorly. Chances are, after the time you've been together, you know what his triggers are. Remove those unhealthy items from the house, and replace them with healthier alternatives. For example, toss the ice cream, and stock the fridge with fruity 0 per cent Greek yogourt. Your spouse may be a little skeptical of the changes at first, but some of the alternatives might quickly become healthy favourites. You can also look online or at your local library for such cookbooks as Joy Bauer's Slim & Scrumptious that will help you make healthier versions of the dishes your partner can't get enough of.
Exercise together
Weight loss is always easier to stick to when you have support. If your partner isn't used to exercising on his own, he will likely need your help to get the ball rolling. Start small by simply taking a 15-minute walk every day. Slowly increase your distance and intensity over time. Try to make it something he'll look forward to by exploring different paths and places together. If he expresses an interest in checking out a team sport or trying a class, encourage him to go for it.
Stay positive
Losing weight is not an easy thing to do by any means. It takes patience and determination. Your partner is likely to get down on himself, so be sure to shower him with honest encouragement whenever possible. Nagging will do more harm than good, as it will cause him to be even harder on himself and potentially return to the old habits he found comforting. Ensuring he feels valued for all his successes and hard work will be far more effective at getting him on the right track.
More weight loss tips
The many uses of water for weight loss
Organize a group weight loss challenge
Monitoring your weight loss