Spa Getaways
City or countryÂ…Montreal and the Eastern Townships offer a plethora of spa destinations for a getaway suited to your style. Here are some spa destinations perfect for a long weekend getaway!
Montreal
W Montreal
Ultra-trendy is the best way to describe W Montreal and its warm, cozy zen-like spa appropriately called Away Spa. The Away Spa is a full service spa with services that include body treatments such as the Aromatic Body Touch Wrap, or facials using Comfort Zone products including Essential, Rebalance and Vitality. Their signature treatments include the Action Sublime Facial and the D-Age Body Firming.
The 152 guest room and 28 suite W Montreal oozes "hip"! The hotel is situated in the gentrified Quartier International District, steps from Montreal's bustling downtown and Old Montreal filled with boutiques, galleries and restaurants.
The Eastern Townships
If a country spa holiday is more your style, just over an hour outside of Montreal is the gateway to the Eastern Townships. The Eastern Townships sure know a thing or two about spa resorts…boasting of some of the country's best.
Château Bromont
The luxurious, Château Bromont hotel resort with its warm yet sprawling Spa Bromont is located at the base of Mount Bromont. Believe it or not, this spa has 35 rooms with trained staff administering a whole array of massages, facials, body and signature treatments. Natural elements such as cocoa, milk, Dead Sea salts and clay are integrated into many of the treatments. State of the art treatments include a vibrating Japanese mattress and a Vibrosaun bed that helps to alleviates tension.
Popular in The Eastern Townships are hammams… Often found in Arab countries where men often relax, the hammam offers gentle heat. Spa Bromont's spectacular hammam has both a Finnish sauna and a Turkish steam bath… And so much more. The hotel consists of 154 rooms and privileged-two storey suites, and is surrounded by pristine waterfalls and beautifully manicured gardens. Golfing, skiing and hiking are just a few of the many activities guests can partake in throughout the year.
Balnea Spa
The Balnea Spa is about 10 minutes away from Château Bromont, nestled on a mountain side within a private nature reserve. The facilities include a steam bath, Finnish Saunas, Jacuzzis, natural pond sweat lodge and waterfall. In the spa, the therapists minister forty different massages and treatments including the Balnea Massage incorporating a number of massage techniques.
Other attractions in the Bromont area include the quaint village on Shefford Street, outlet shopping and the Ski Bromont Water Park.
Spa Villégia
Another popular spot in The Eastern Townships is the Spa Villégia at the Manoir des Sables Hotel & Golf in Orford minutes away from Mount Orford Park.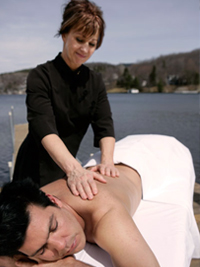 The 140-room and suite luxurious hotel and Spa Villégia overlook the private Ecluse Lake and an 18-hole golf course. Treatments at the spa include body includes Massotherapy and Hydrotherapy, facials, waxing, pedicures and manicures. The spa also has a beautiful Hammam area with multi-jet showers, Jacuzzis with salty water, outdoor cold and hot tub, and a Finnish sauna.
Spa Villégia's signature body treatment--Morjana is the first name of a Moroccan woman who created the line of products and treatments using argon oil, rose water and orange flower water.
When skiing or golfing aren't keeping you busy, other area attractions include concerts at The Centre d'Art Orford, Orford Lake and the trendy city of Magog situated less than 10 minutes away offers boutiques, galleries and many restaurants. The nightlife in Magog thrives especially through the summer when the population triples in size.
To book your Montreal and Eastern Townships spa getaway
For general tourist information
More From SheKnows Explorer