Are We
There Yet?
Long family road trips can be brutal, especially with bored and cranky kids. Before you break out the DVD movies or handheld video games, give these fun travel games a try.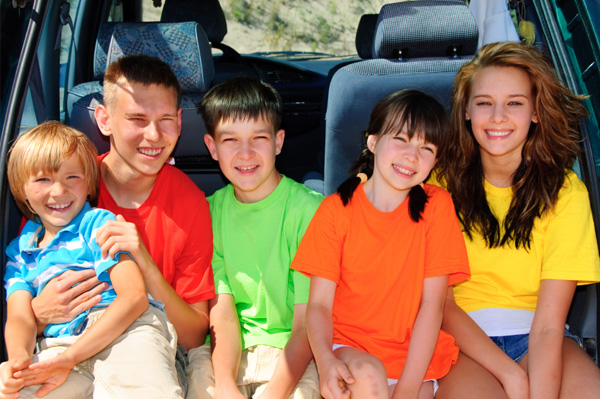 The 20 Questions game
This game has been around forever and is still a blast to play. Someone in the car thinks of something -- anything -- and everyone else takes turns asking questions to guess what it is. The first question is always, "Animal, vegetable or mineral?" After that, each passenger asks a pointed yes-or-no question, such as "Is it smaller than a toaster?" or "Can you give it as a gift?" If you reach the 20th question without a winner, everyone gets one last chance to guess before the "thing" is revealed and another person starts a fresh round.
| | |
| --- | --- |
| | Build up excitement for your destination: Make the "thing" related to your trip! |
The "Would You Rather" Game
Sheri Wallace, editor of Road Trips for Families, spent 10,000 miles on the road with her family last summer – with no MP3 players, video games or movies – and had a fabulous time! The family's favorite road trip game is Would You Rather, as in "Would you rather eat a bug or get a massage with boogers?" or "Would you rather have poison ivy between your toes or on your butt?" Silly questions that kids love (and their answers are so telling!).
| | |
| --- | --- |
| | Change "Would you rather...?" to "Who do you like better...?" using celebrities and famous people throughout history. |
The Alphabet Game
Research shows that a lot of young drivers pay little or no attention to road and street signs. This game helps make even the youngest family members aware of the various signs and billboards flanking the highways. As you ride along, look for words that begin with each letter of the alphabet, starting with A and ending with Z. Shout them out or write them down, and start over each time you complete the alphabet.
| | |
| --- | --- |
| | Q and X can be tough to find. Change the rules for these special letters: You don't have to find a word that begins with Q or X, you just have to spot words that include these letters. |
The License Plate Game
This game is simple, fun and reinforces geography skills. As you're riding along the highways, take note of the license plates on passing cars. Look for as many different provinces, territories and US states as you can find. Do it as a group – one person keeps track with a pencil and paper – or as a competition where each passenger keeps track on his or her own. Tally up at each rest stop and at the end of the trip!
| | |
| --- | --- |
| | Make it more challenging:  Print out a blank Canada map and have your kids fill in the province or territory names as they spot them. |
The Scavenger Hunt Game
Candi Wingate, president of Nannies4Hire suggests this easy travel game: Before the trip, prepare a list of items the kids have to find for the scavenger hunt, such as a red convertible, a bald guy on a billboard sign, a field of cows… you get the idea. Make one list for everyone or give each passenger a different list. Either way, the kids can work together to locate all of the items!
| | |
| --- | --- |
| | Make the game extra special by giving each kid a disposable camera that they can use to capture the items on their list. |
More on family vacations
Secrets of fun family trips
5 Family road trips
Hit the road and have fun
More From SheKnows Explorer