How To Make
Road Trips Fun
A good road trip takes planning, especially when you have kids in tow. Check out these expert tips for a pleasant car ride to your next vacation destination.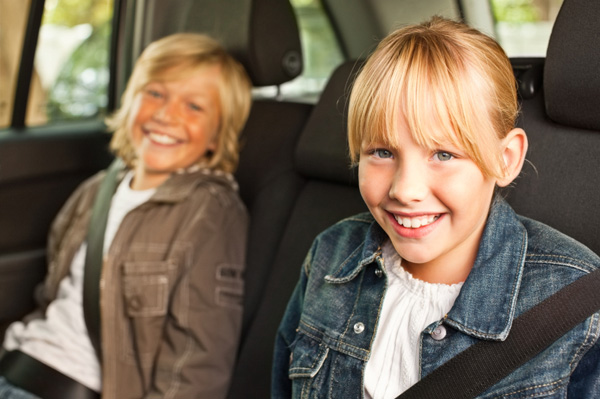 Plan age-appropriate vacations
Think about the developmental stage of your children and consider the personality of each child as well. "If you have a hyperactive toddler, planning a museum tour of Europe is probably not the best idea," says Kaamna Bhojwani-Dhawan, founder of Momaboard.com, a site dedicated to parents traveling with young children.
Check out these tips for helping small children have fun in the car >>
Be prepared
Neil Hastings, director of sales and marketing for Mountain Lodge Telluride says his mantra for family vacation fun is "prepare, prepare, prepare." Preparation can make a good vacation great and turn disappointment into fun (and keep meltdowns to a minimum!).
| | |
| --- | --- |
| | Make the drive more pleasant by limiting the "Are we there yet?" frustration, says life coach Rebecca Cagle. Before your trip, give each child 10 one dollar bills to spend at your destination. Explain that each time a child asks the question "Are we there yet?" he or she has to pay one dollar. This teaches children patience and rewards them for good behavior. |
Pack snacks
Bring a nice supply of healthy snacks in the car. With your own food, you'll save money and time-consuming fast-food stops. "And eating small, frequent meals throughout the day can put extra energy into active days and keep young ones much happier," adds Hastings.
Play these imagination games for long car rides >>
Bottle it up
Stock up on metal thermos or drinking bottles for each child and keep them filled with fresh water. When vacationing – especially at high altitudes, in the sun or on a beach, it's easy to become dehydrated and not know it, cautions Hastings. Avoid plastic water bottles, which can be harmful after sitting in a warm car for too long.
Expect the unexpected
Build some flexibility into your schedule. "Yes, family vacations require some planning," says Bhojwani-Dhawan, but you also need to ensure that your schedule allows for unpredictable changes and inevitable kid delays."
| | |
| --- | --- |
| | Visit Road Trips for Families for trip ideas, advice for traveling with babies/kids/teens, and real mom feedback on everything from where to eat to the latest travel products. |
Make pit stops
There's nothing worse than frantically looking for a place to go to the bathroom in an unfamiliar city. Before you head out on your next family road trip, the TENA Bathroom Finder is sure to come in handy. It's a website that quickly and accurately locates dozens of the nearest public restrooms.
Relax!
Remember, it's a vacation, so loosen up a little, and keep in mind that the car trip itself is part of your journey... play games, take in the passing sites and enjoy!
More on family vacations
5 Family road trips
5 Road trip games to play on your next trip
How to save on family vacations
More From SheKnows Explorer