Car Seat Safety
Get informed about seating arrangements for toddlers and kids, so everyone rides safely around town and on the road to summer vacations.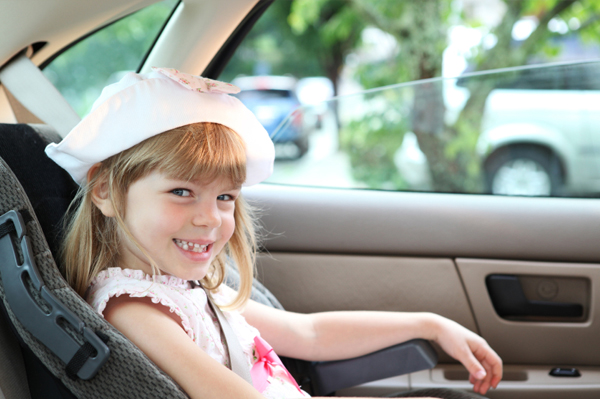 Car seat safety
Every year, 10,000 children ranging in age from infants to 12-year olds are injured or killed in accidents on Canadian roads. The best prevention is to always have children properly buckled up in appropriate seats whenever they are in the car, even for the shortest outing. Rule #1 reminds us that the back seat is the safest place for children.
It is recommended that infants and toddlers ride in rear-facing car safety seats placed at a 45 degree angle so the baby's head is supported. This also makes it easier for the child to breathe. A snug harness keeps the child safe in the event of a sudden stop or a crash. Keep using the rear-facing seat for as long as the child is in the height/weight range of this seat, at least until age 2.
Once they're safe and secure, help small children have fun in the car >>
Booster seat safety
The next stage a child moves to puts them in a forward-facing seat with harness straps that are narrower than a typical vehicle seat belt to fit the smaller shoulders of a child comfortably and securely. The child can safely use this seat as long as the weight/height range of the safety seat is not exceeded.
Booster seats are designed to allow children who have graduated from forward-facing seats to use vehicle seat belts. The booster seat properly positions the child so that the seat belt is correctly located on the lap and the shoulder. When the child is tall enough to properly use regular seat belts, they can ride without the use of the booster seat.
Always make sure everyone is secured in their safety seat before starting the car and teach kids to never unbuckle until the car is stopped and the engine turned off. To buy the appropriate child safety or booster seat, try it out -- place the child in the seat you are considering to make sure they are comfortable. It's essential that each safety seat is properly installed in your car. Every seat comes with detailed instructions, but if you are unsure that you've installed it correctly, there are many options for help: your local car dealer, law enforcement or a fire station will make certain the seat is correctly placed and safely installed. A safety seat that is not securely installed offers limited protection.
Before you buy, read the label carefully so you select within the right height and weight range for your child. Once you make your purchase, send in the product registration card for the seat to insure that you'll receive notice if there are any recalls.
Never leave an unattended child in a car, not even for a few minutes, and set a good example by always buckling up yourself. It's a habit that saves lives.
Keep them entertained with these fun road trip games >>
More helpful hints for kids
10 Family fun ideas
Family day activities for the whole family in Toronto
More From SheKnows Explorer