Turn Your Fireplace Into A Focal Point
A fireplace can change the way a room looks and feels (whether it's wood-burning or gas). But knowing what to do with the mantel — which is always more functional than fashionable — can be tricky. Go too big or bold and the look you create could be gaudy; decorate too simply and you could be stuck with a plain-Jane focal point. Here are some tips to help you out.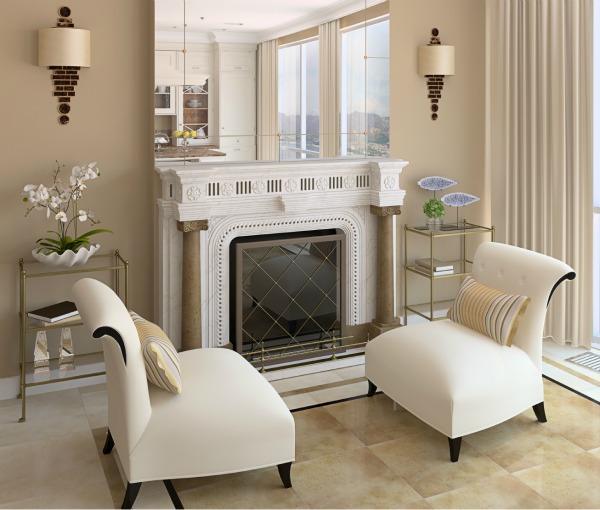 Use an oversized mirror
If you have a large fireplace, one way to counter its size and to make your room feel larger is to hang an oversized mirror over the mantel. If your decor is on trend, reach for one with a metallic frame — it will add an air of sophistication and modernity to your room. If your aesthetic is more rustic, opt for a mirror frame made out of wood that's styled in a cool design.
Add accessories
Mantels can be a lot of fun to decorate — especially if the room your fireplace is in lacks storage. Buy a bunch of knick-knacks, colourful vases or glass containers and arrange them in a crafty way to create an eclectic yet purposely random look. Have fun mixing and matching colours, too. Trendy options for 2012 include green, aqua and tangerine. Anything decorated with owls also remains trendy.
Hang pictures strategically
Instead of hanging images over the mantel, as is common, use the fireplace's ledge to create an easel-based picture wall. Grab some of your favourite photos or paintings, place them in various-sized frames and arrange them in a fun, relaxed way along the top of your mantel. The arrangement will showcase who you are to guests and will afford you the opportunity to show off some of your favourite things in a unique way.
Have fun with florals
Flowers are a great way to bring life (literally!) and colour to any room — and if you have a mantel to decorate, floral arrangements are a classic way to dress it up. Not into peonies, roses or whatever flower is currently in season? You can also decorate with small, sturdy plants — just pot them in unique-looking vases.
More about decorating your mantel
How to design a holiday mantel
DIY holiday mantel banner
Don't forget the mantel
More From SheKnows Explorer