Weed Out Your Wardrobe!
Say goodbye to closet clutter a make a fresh start for spring!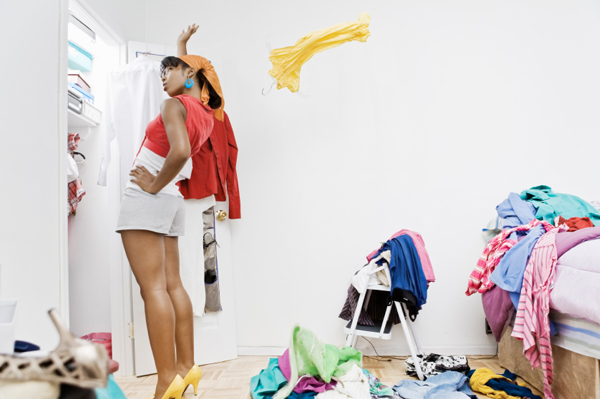 Spring is a great time to clean your closet, as the season of out with the old to make room for the new! In just a few easy steps, you can weed through your wardrobe and face the coming season feeling lighter and more organized. Here's how to get started!
Reality check
It's always hard to say goodbye, even to the outdated and outgrown. We all have "bargains" hidden in the dark recesses of our closets — items we got for an amazingly low price, pants that will fit if we lose just 10 more pounds, and sentimental favourites that link us to some happy memory. The problem is letting them go.
This project will take some time, and you'll have to brutally honest with yourself. As you try on each item, ask yourself if its worth keeping. Is the piece in good condition — no stains, rips or missing buttons? Is it a classic that's still in fashion? And most importantly, does it fit correctly? Clothes should always make you feel good, so anything that is uncomfortable, has you tugging at it to adjust, is too tight or too baggy or just makes you look frumpy has got to go. If you've gained weight, be realistic: Save items one size down, but don't hoard those teeny pants that are multiple sizes below where you are right now. They'll lurk in the shadows mocking you if the weight doesn't come off. If you've already lost weight, don't keep a closet full of baggy items in fear that you'll regain the weight. And if it's a trend item, don't be foolish enough to hang on to it, hoping for its return to fashion. If the trend comes back it will still look outdated, and so will you.
Have a plan
Work with one category at a time: blouses, pants, skirts, dresses, shoes, purses and so on. Evaluate each item individually and sort into piles as you go. You can have a stack of items for donation, some things that you may want to sell through a consignment store or at a garage sale, pieces that need altering to be wearable, and clothing that is usable but needs a minor repair. Sort accordingly, but with the resolve that any items needing alteration or repairs will be taken care of within two weeks. If you can't promise yourself that, add them to the donation goods.
Organize
As you move through your sorting, hang the "keep" items from each catagory back in your closet. Place them with hangers all facing the same way and organize by colour from light to dark. Use a shoe organizer to keep your footwear in pairs -—no more rooting around looking for the mate to the single black pump you unearthed from the jumble on the closet floor.
And containerize! See-through containers will help you know at a glance where items are stored. Get appropriately sized containers for items like sweaters, scarves, even costume jewelry.
Clear out the discards
Load the items for donation into your car now. Dropping off donations immediately will clear the clutter and help you avoid second thoughts and "cleaner's remorse." Box up the items to sell, and do the same for the articles of clothing that you'll be taking for cleaning, repair or alteration.
Now step back, sigh with relief, and enjoy the satisfaction of a job well done!
More organization tips
Declutter your space in 20 minutes or less
Dress for success: What your clothes say about you at work
5 Personal organization apps
More From SheKnows Explorer