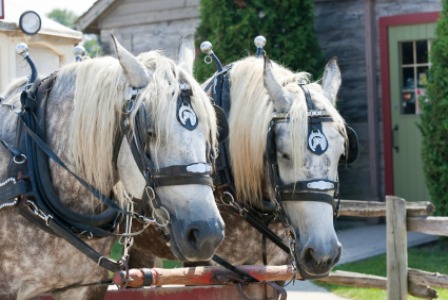 St. Jacobs' quiet, old-fashioned feel makes for the perfect romantic getaway. Stroll through the gorgeous town streets, do some shopping and treat yourselves to an exquisite dinner.
Ontario's favourite rural destination
Morning
For a gorgeous stay, make yourself a reservation at the Evenhome Estate and Spa. It was once the home of a doctor and has since been turned into a bed and breakfast that holds conventions and weddings. Each bedroom is named after a well-known person of the area and decorated in a unique way. Some have a modern style while others are decorated with antiques and quilts made by the town's artisans, so you can have the exact feel and experience you are looking for. The inn also offers a gorgeous pool and verandah for those warm summer months. Start your morning with a deluxe continental breakfast before setting out for the day.
Afternoon
After breakfast, set out for a stroll through the picturesque town. In addition to its gorgeous landscapes, St. Jacobs offers a unique shopping experience. Begin by taking a walk down the main street, which is loaded with artisans' shops and antique stores.
If you're there on Tuesday, Thursday or Saturday, make your way to Canada's largest farmers market and flea market, where you are sure to want to spend hours. It offers new foods and items with the changing seasons, so you'll see something new every time. You can easily grab lunch at one of the food vendors on the first floor. The artisans there offer delicious meats and cheeses, while the Mennonite booths offer up delectable baked goods. Sit down at one of the many picnic tables to enjoy your meal, or create your very own picnic with the seasonal fruits and vegetables for sale outside. Afterwards, make your way up to the second floor for unique home decor items and crafts, or travel next door for furniture and fashion.
And if you stop by on a Saturday from now until April 14, you can take a romantic horse-drawn trolley tour through the maple sugar bush.
Evening
After your long day of walking you'll likely want to sit down for a romantic dinner. Benjamin's Restauraunt and Inn uses fresh, regional ingredients that are whipped into unique, seasonally themed dishes. Plus, it's set in a renovated nineteenth-century stagecoach inn for a unique, intimate feel. You can retreat to your hotel for a nice night in, or finish your evening off with a trip to the Stratford Festival, which is just a quick drive away. Or, you can stop by the train station for an ice-cream cone and a visit to the train display on the top floor.
No matter what style you prefer for your romantic getaway, you are sure to enjoy some one-on-one time with your man in St. Jacobs!
more travel
Top 10 weekend travel destinations
5 Cool Canadian spots to visit in wintertime
Regions to visit in Canada
More From SheKnows Explorer